Las Vegas is known for luxury, nightlife, and entertainment – but there's nothing quite like a great club to experience the full glamour and excitement of the city. From roof-top bars with stunning views to underground clubs that bring your clubbing dreams alive, Las Vegas has something to offer every taste and budget.
Whether you're looking for somewhere chic and sophisticated, a party spot, or just an intimate lounge, you can find the perfect place to let loose (or play it lowkey) in Sin City. If you want to experience the nightlife in Las Vegas click here.
Here are the most popular clubs in Las Vegas
Zouk Nightclub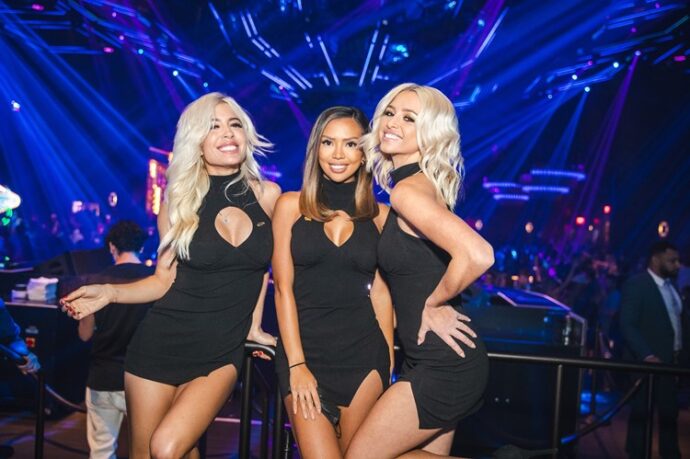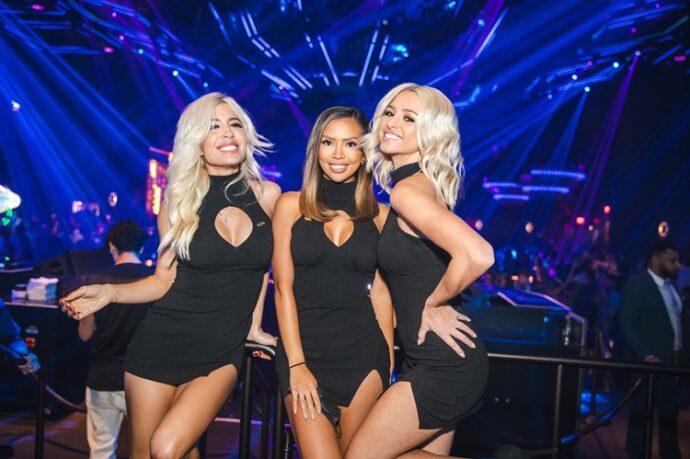 Zouk Nightclub, Vegas's newest and most cutting-edge club, offers guests a multi-faceted experience with Capital Bar and Empire as extra options. On certain nights and in selected seasons, the two bars can exist independently or together with the main venue – creating limitless possibilities for an unforgettable night.
XS Las Vegas
Set in the glamorous Wynn Las Vegas, XS is undeniably the hottest nightclub on The Strip. Showcasing a multitude of opulent areas, from dazzling dance floors to luscious lounges, it's where you'll shake your booty to the beats of superstar DJs like The Chainsmokers and David Guetta.
Bartenders are shaking up signature cocktails with expert flair, while VIP tables abound for those looking for that extra bit of luxury. When summer Sunday rolls around, the outdoor area transforms into a wild Nightswim pool party. Of course, as one of the most in-demand spots in town this place tends to get pretty packed – so make sure to break out your comfiest dancing shoes and come with an extra dose of patience.
Omnia Las Vegas
At Omnia inside Caesars Palace, luxury is the name of the game. This Las Vegas nightclub raises the bar with its lavish elegance, ultra-modern design, and cutting-edge technology.
For an evening guaranteed to be more than memorable, hit the dance floor and move to the beat of the masses. Then head over to the Heart of Omnia for a unique hip-hop experience. Prefer fresh air?
Take in spectacular views of The Strip from their rooftop garden. But don't stop there! Top it off with performances by renowned DJs, bands and musicians – all packaged up in unrivaled decadence that only Sin City can deliver.
Hakkasan Nightclub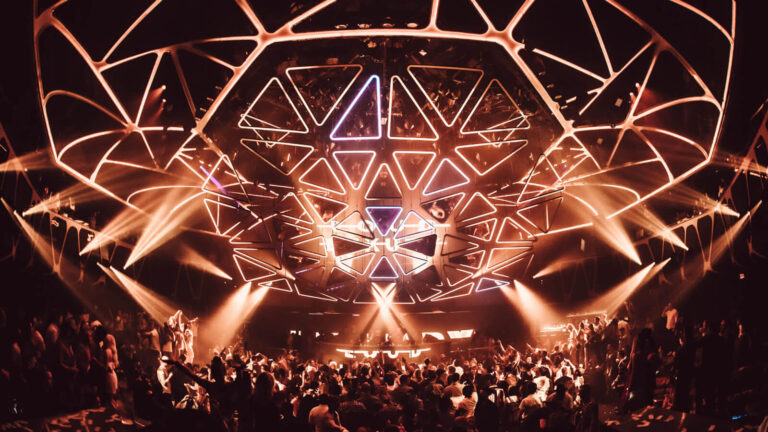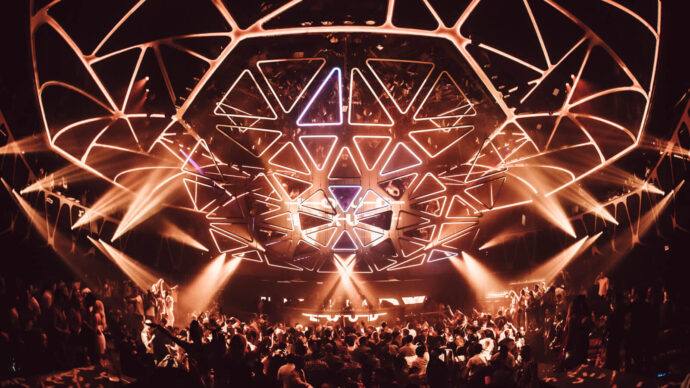 Hakkasan, situated in the prestigious MGM Grand of Las Vegas, has gained immense popularity due to its alluring multi-tiered space. From the deliciously renowned Hakkasan restaurant to the outdoor garden bar and vast dance floor, there is something for everyone here.
Entering the Ling Ling Lounge found on the third floor will transport you to hip-hop and top 40 havens unlike that of the main EDM arena. Music giants such as Tiesto, Calvin Harris, Steve Aoki, and innumerable renowned artists create an unparalleled ambiance in this ultra-modern nightclub.
If you are looking for an upmarket club experience or even just a night out worth remembering, why not splurge at Hakkasan where money can still be enjoyed regardless of budget? There is no other nightclub on The Strip quite as extravagant or awe-inspiring as Hakkasan.
Marquee Las Vegas
If you have encountered the plethora of individuals gathered on the second floor of the Cosmopolitan, stepping foot into the Marquee will quickly explain why. Comprising multiple areas that marry into a vibrant and lively atmosphere, the Marquee is recognized as one of the preeminent nightclubs in Las Vegas.
Its main room furnishes a reminiscent quality of the classic Vegas showroom exemplified by electrifying EDM music and an animated disco ball that splinters the space with shimmering light. For those wishing for a tranquil environment, The Library is perfect; its ambiance transitions from being apt for frenzied revelry to what can be described as a more introspective setting suitable for conversations regarding various nightlife experiences.
The Boom Box Room provides patrons with a hip-hop club experience like none other; so intimate that one could feel their breath grabbed just to be amidst it. Moreover, The Strip overlooks the venue and a slender outdoor balcony is provided to help dissipate the heat generated by vigorous festivities. Of course, a gust of fresh air is a highly sought-after commodity in such activity.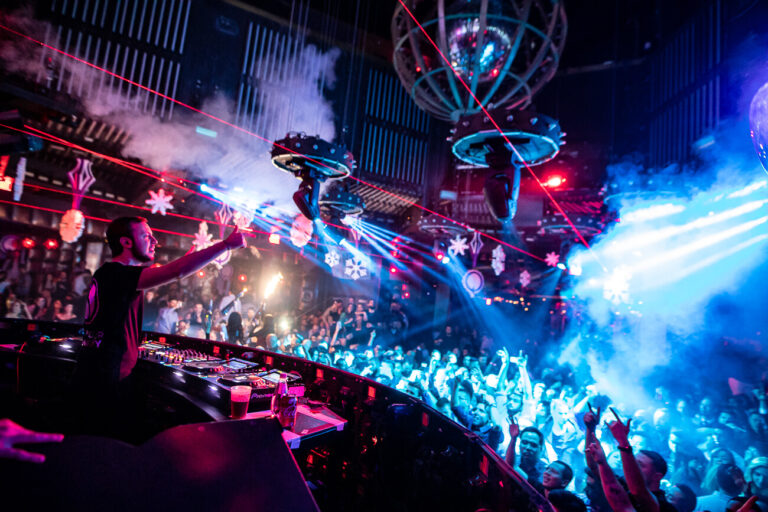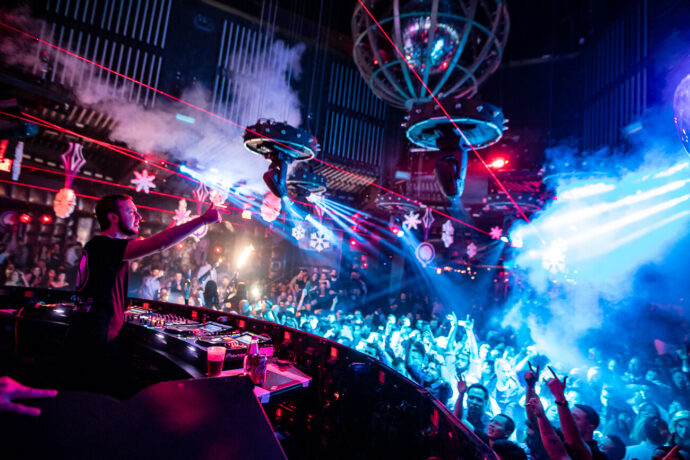 EBC At Night
Sit back, relax and get ready for a night of luxurious indulgence at Encore Beach Club at Night. Located behind the revolving doors of the exclusive Encore hotel, this Vegas hotspot is one of the best clubs in town. From the extravagant snake sculpture overlooking the main bar to the wide selection of cabanas surrounding the pool, EBC takes pride in its commitment to extravagance.
Not even winter can stop the party – with a heated outdoor space complete with its DJ booth and dancefloor, you'll be warm and cozy while you take in the stunning views. Gambling fans can test their luck just a few steps away from the club before partying among the beautiful bikinis in the iconic Nightswim parties. If you're looking for a wild and wonderful night, EBC at Night is not to be missed!