Rhodes is the largest of the Dodecanese islands in Greece and is located in the southeastern part of the Aegean Sea. It is known for its rich history, stunning beaches, and charming villages. The island has been inhabited since prehistoric times and has a fascinating mix of cultures, having been ruled by the Greeks, Romans, Byzantines, Ottomans, and Italians. Its medieval Old Town is a UNESCO World Heritage Site and is one of the best-preserved examples of medieval architecture in Europe.
Rhodes is one of the most popular tourist destinations, attracting visitors from all over the world. The island offers a wide range of activities, including water sports, hiking, sightseeing, and relaxation on its beautiful beaches. Its warm climate, stunning landscapes, and rich cultural heritage make it an ideal destination for travelers of all ages and interests. With its wide range of accommodation options, delicious cuisine, and welcoming locals, Rhodes is a must-visit destination for anyone seeking an unforgettable holiday experience.
Rhodes – From Ancient Times to the Medieval Period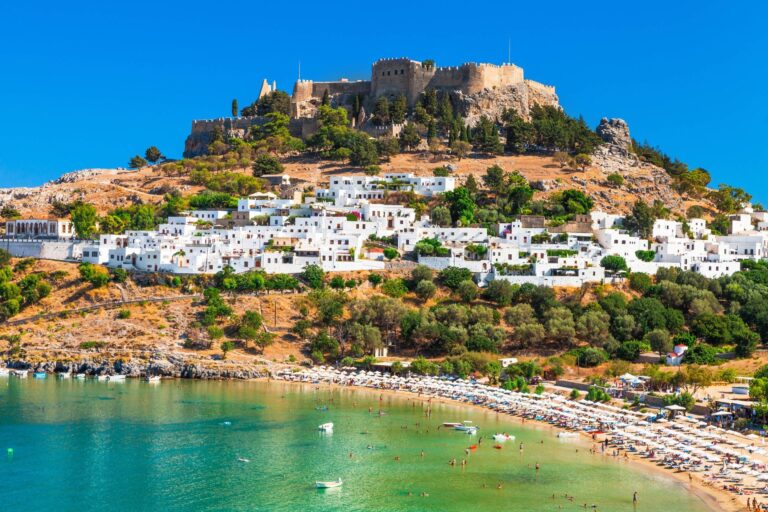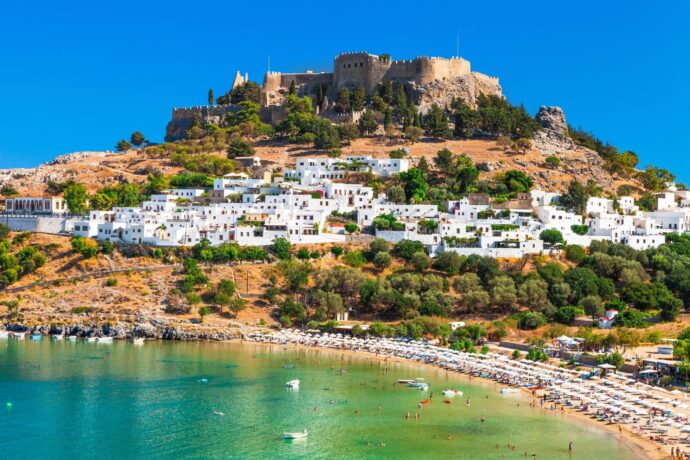 Rhodes has a long and fascinating history that dates back to ancient times. It was an important center of commerce and culture in the Mediterranean and played a significant role in many historical events. In the 5th century BC, Rhodes became a major naval power and a member of the Delian League, which was led by Athens. In the Hellenistic period, Rhodes was known for its famous Colossus statue, which was one of the Seven Wonders of the Ancient World.
In the medieval period, Rhodes was ruled by the Knights of St. John, who built the impressive fortifications that still stand today. The Knights' Palace, located in the medieval Old Town, is a magnificent example of Gothic architecture and is now home to the Archaeological Museum of Rhodes.
The Old Town itself is a labyrinth of narrow streets and alleys lined with beautiful buildings and historic landmarks, including the Palace of the Grand Master, the Street of the Knights, and the Mosque of Suleiman the Magnificent.
Other key historical sites and monuments on Rhodes include the Acropolis of Rhodes, which was a major center of worship in ancient times, and the Ancient Stadium, which hosted athletic events during the Hellenistic period.
The Lindos Acropolis, located on the east coast of the island, is another impressive historical site, featuring a mix of ancient Greek, Byzantine, and medieval architecture. With such a rich and diverse history, Rhodes offers visitors a unique glimpse into the past and a chance to explore some of the world's most significant historical landmarks.
Best Places to Stay on Rhodes Island
Rhodes is divided into several regions, each with its own unique characteristics and attractions. The eastern coast of the island is known for its stunning beaches and crystal-clear waters, while the western coast features rugged landscapes and picturesque villages. The medieval Old Town is a must-visit destination for history buffs, while the modern resort areas offer a wide range of activities and entertainment options.
Some of the best places to stay on Rhodes include Lindos, which is famous for its picturesque, whitewashed houses and stunning Acropolis, and Faliraki, which is a popular destination for families and features a wide range of amenities, including water parks and nightlife.
Lardos is another popular destination on the island, known for its beautiful beaches and traditional Greek village charm. There are many accommodation options in Lardos, including small guesthouses and luxury Lardos beach hotels.
Accommodation Options in Rhodes | From Apartments to Beach Hotels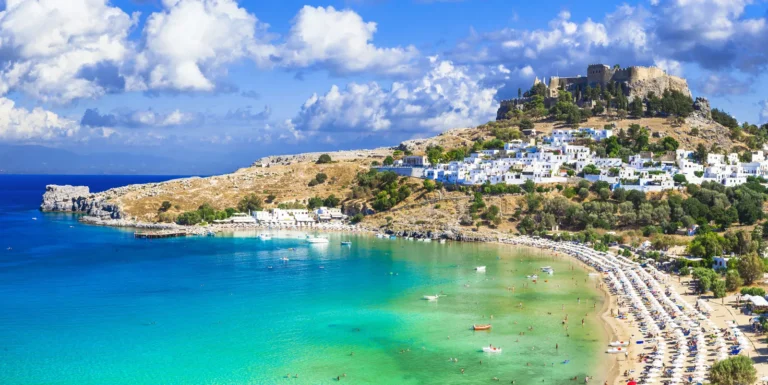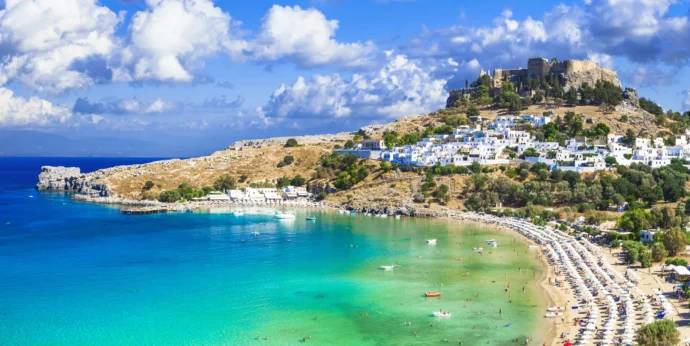 Rhodes offers a wide range of accommodation options to suit every budget and preference. Hotels are perhaps the most popular choice, offering a wide range of amenities and services, including swimming pools, restaurants, and organized activities. The advantage of staying in a hotel is that everything is taken care of for you, from housekeeping to meals, so you can simply relax and enjoy your stay. However, hotels can be quite expensive, especially during peak tourist season.
For those looking for a more independent experience, villas and apartments are a great option. These properties offer more space and privacy, as well as the ability to cook your own meals and live like a local. The disadvantage of staying in a villa or apartment is that you may not have access to the same amenities as a hotel. Now, if you're looking for a more budget-friendly option, there are also a variety of guesthouses and rooms-to-let throughout the island. These properties offer basic accommodation and are a great choice for backpackers or those on a tight budget.
Lardos village is a very good option to search for a beach hotel, as the place offers both privacy and proximity to the island's hot spots. Besides easy access to the beach, a Lardos beach hotel usually offers a range of amenities and facilities to guests, from spa and concierge services to suites with private pools and fine dining options. Whether you're looking for a romantic getaway or a family-friendly vacation, Lardos Beach Hotel is a great option to consider.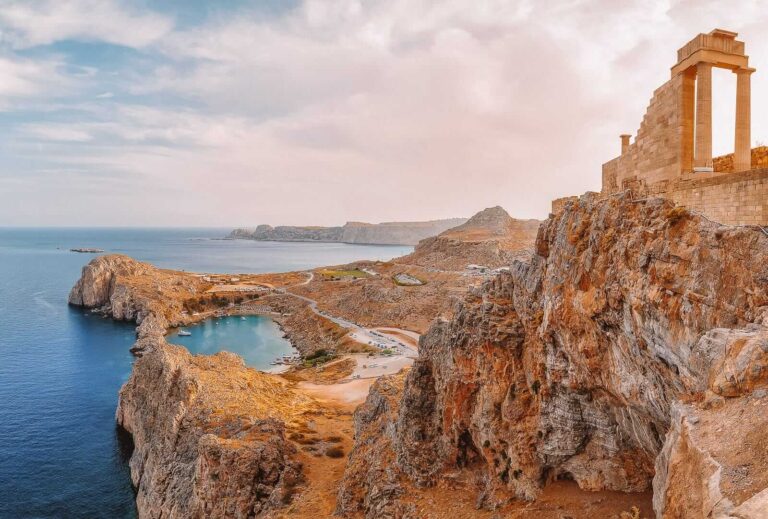 To summarize, Rhodes is a beautiful island with a rich history, stunning beaches, and plenty of accommodation options to suit every budget and preference. Visitors can explore the island's historical sites and monuments, relax on its pristine beaches, and enjoy a range of activities and experiences. Lardos village is a great option to search for a beach hotel, as it offers both privacy and proximity to the island's hot spots.
Whether you're looking for luxury or budget-friendly accommodation, Rhodes has plenty to offer. Personal recommendations for visitors would include visiting the Acropolis of Lindos, exploring the Old Town of Rhodes, and taking a boat tour around the island to discover its hidden gems. Finally, don't forget to try some of the island's delicious culinary specialties, such as fresh seafood, traditional Greek dishes, and local wines.