The Bahamas are a popular vacation destination located just a hop, skip, and short airplane trip from the southeast coast of Florida.  300 miles away, in fact.  Whether your jam is paddleboarding, snorkeling, fishing, sunbathing, or swimming with pigs (yes, you read that right) there is plenty to do in the Bahamas.  With over 700 islands to choose from and 2,000 beaches open to explore it's essential you have a shortlist of the best ones to plan for before taking a trip because you want to save every moment for relaxing next to beautiful water and perfect beaches.
First: Where to stay?
There are many different types of accommodation available in the Bahamas, from all-inclusive resorts to private villas. No matter what your budget is, you can find a place to stay that will suit your needs. If you're looking for a luxurious and relaxing vacation, then staying in Bahamas Villas is a great option. There are many private villas available for rent, and they come in all different sizes. You can find villas with multiple bedrooms, private pools, and even your own chef! Staying in a villa is the perfect way to experience the Bahamas in style. You'll have all the amenities you need at your fingertips, and you'll be able to relax in complete privacy. If you're looking for a truly memorable vacation, then renting a villa is the way to go.
Most Popular
As the capital city of the area, Nassau has large ports of entry, including an international airport (Lynden Pindling International Airport) and a cruise port.  Located on New Providence Island it has a population of 275,000 and you will find all amenities here.  Founded in 1670 by the British it has a long history as a colonial port city.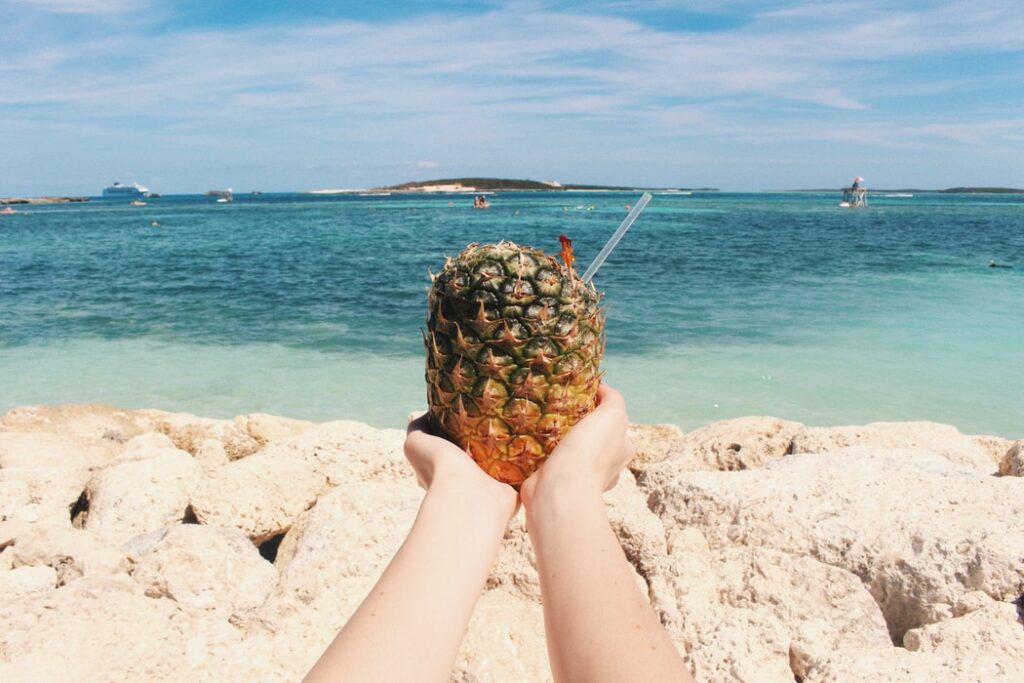 Grand Bahama Island is becoming the most popular island for American tourists because of its close proximity to Florida.  It's main city, Freeport, has been growing since the mid-1950's and has developed into the second most populous city in the area.  It has a couple national park preserves with recreational activities allowed.  The Lucayan National Park has an extensive underwater cave network that is open to certified SCUBA divers.  
Blue Lagoon Island is very popular with families.  It's easily accessible from Nassau and is known for it's interactive animal programs including dolphins and sea lions.  A private beach is worth checking out for many reasons, as well as the boat tours leaving regularly from it.  
As long as we are discussing animals, it's worth noting that Big Major Cay (famously known as Pig Beach) is also accessible from Nassau and gives you the very unique opportunity to swim with pigs.  These friendly hogs have taken over the wilds of the island and love to greet the tourists.  It's also possible to grab a Stand Up Paddleboard or kayak and push off of Staniel Cay to see these porky swimmers.  Bring along a bag of slope and they'll swim right up to your board to be fed.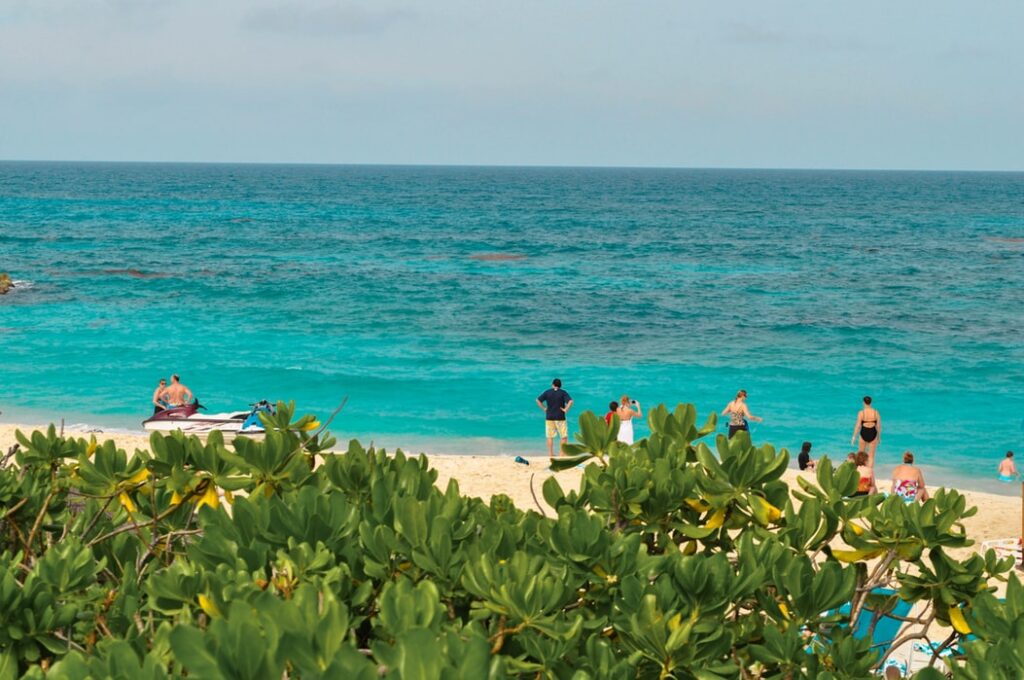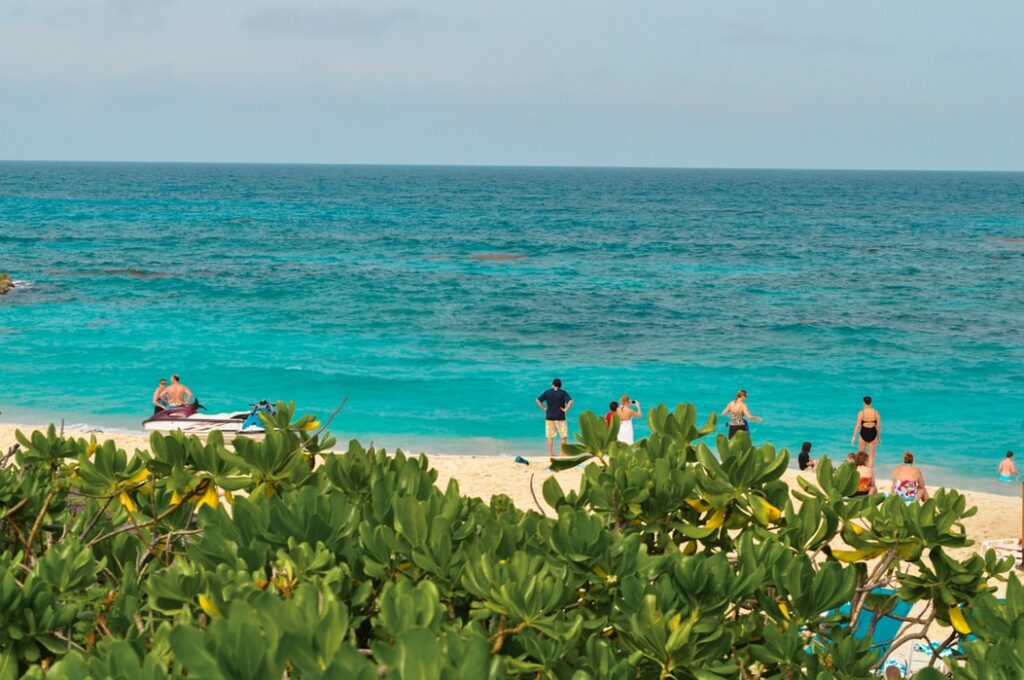 Go a little further out (still accessible from Nassau) to Bitter Guana Cay to discover the Bahamian Rock Iguanas.  Evolving over the course of 3 million years this endangered species of reptiles split into three different subspecies: the Andros Island iguana, the Allen's Cay iguana, and the Exuma Island iguana.  In danger of going extinct, protection measures are in place on the island but you are still able to hike and snorkel in the excellent shallow coral pools offshore.
If you're looking to recover from your previous night's partying, then Paradise Island is for you – Cabbage Beach. The Vegas in Tropics! Most sunbathers doze in this island and it's likely to be crowded near the hotels but you can find more peace on the northwestern extension – The Paradise Beach, which is only accessible by boat or on foot. 
Grand Bahama Island has 60 miles (97 km) of sandy shoreline and Xanadu Beach offers the most convenient to Freeport's hotels. There's more than a kilometer of white sand and you can experience gentle surf here. Though you can't expect to have the beach all by yourself but if you want a more solitude experience, you can stretch to any of the beaches from Xanadu to either direction. Most hotels offer shuttle service in the island so it's not a problem to wander off the island.
Paddleboarding – If you are tired of the resort and want to get out on the water for a relaxing day of paddling there are plenty of opportunities. Some highlights include: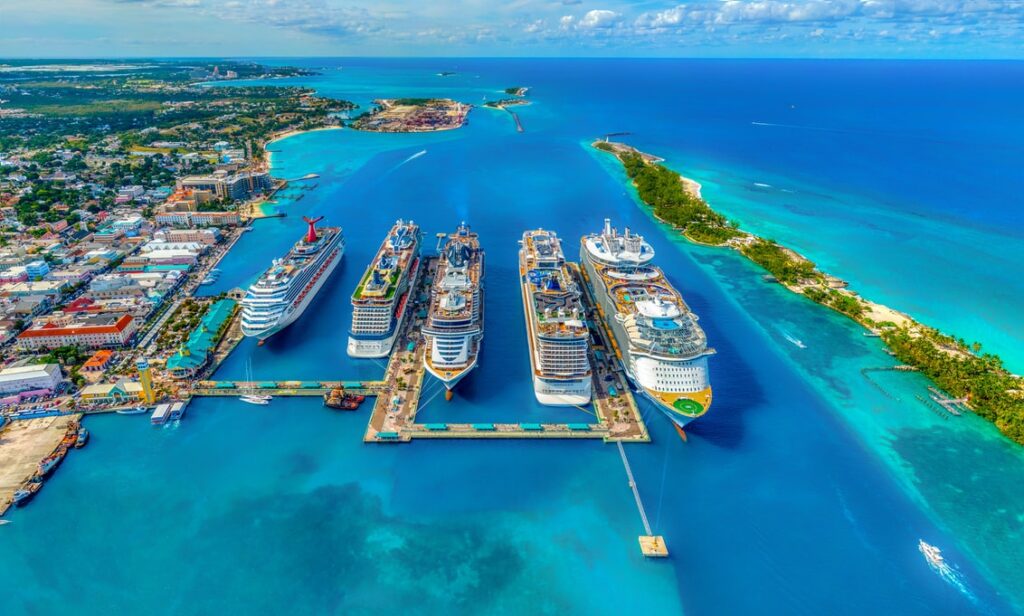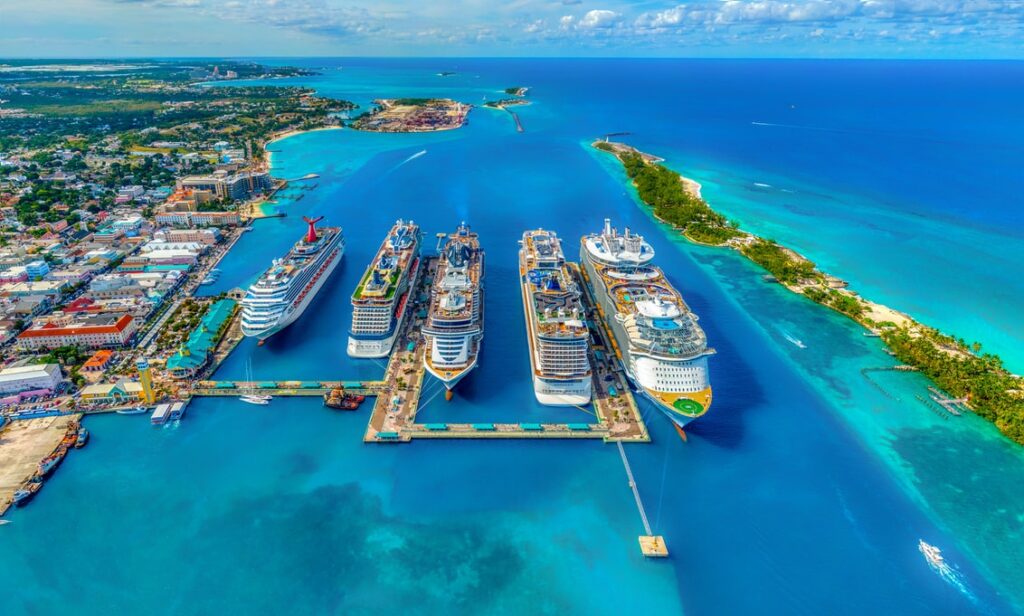 Shroud Cay

– a protected archipelago south of Nassau, it's known for the many tidal creeks that weave their way through the mangroves and you'll be sure to

spot all sorts of wildlife, from numerous fish species, sharks, jellyfish, wild birds, and conch. 

Harbour Island

– It's most popular destination is a pristine 3 mile stretch of pink sand beach that is

perfect for more than just paddleboarding

. See

Gilisports

for more info. The inlet harbors are great for boarding and spotting the dolphins that like this island and are not shy.

Fishing

–  If catching fish is more your style (no fish sightseeing here!) there is plenty of variety in the Bahamas.  From experienced big game anglers, to the beginners in the family, you will find the right fit.

Chub Cay

–  Known as "The Billfish Capital of the Bahamas" As well as the billfish, blue and white marlin make their appearance seasonally.

Bimini

– Bimini likes to boast it's the best fishing on the island archipelago, and it just may be true with the variety of big game (marlin, bluefin tuna, and wahoo) attracted to the area by the smaller migratory fish.

Hiking

– Tired of the water?  It's possible to strap on some boots and find some hiking terrain that you can't find at home.  



Preacher's Cave

– On the island of Eleuthura this is an unusual destination.  It was founded in the 1600's by sailors and used by a church for a century.

Bimini Nature Hiking Trail

– A well-marked trail with education markers pointing out the natural flora and fauna, this is a great way to see the natural pine forests that grow on the island of Andros.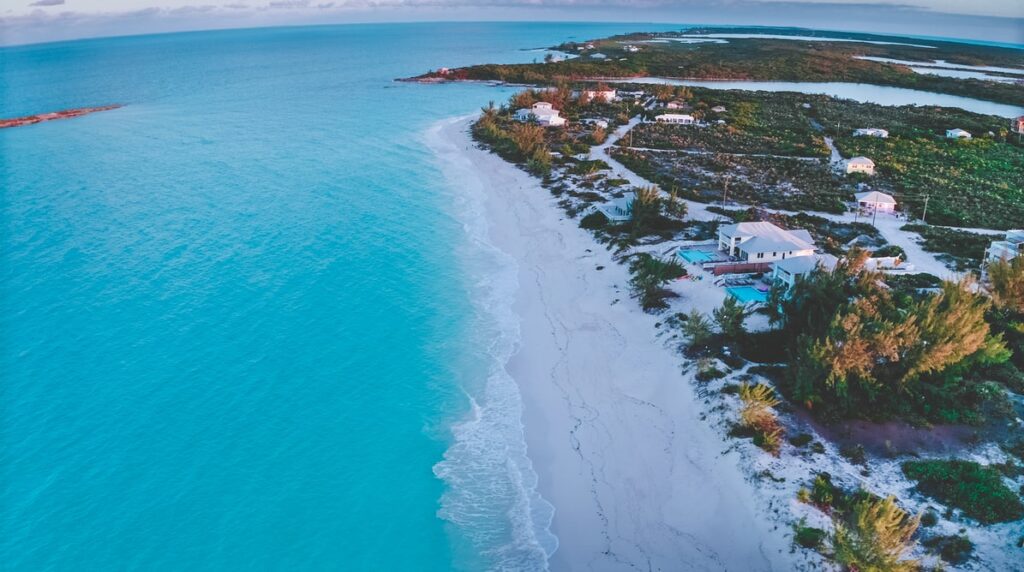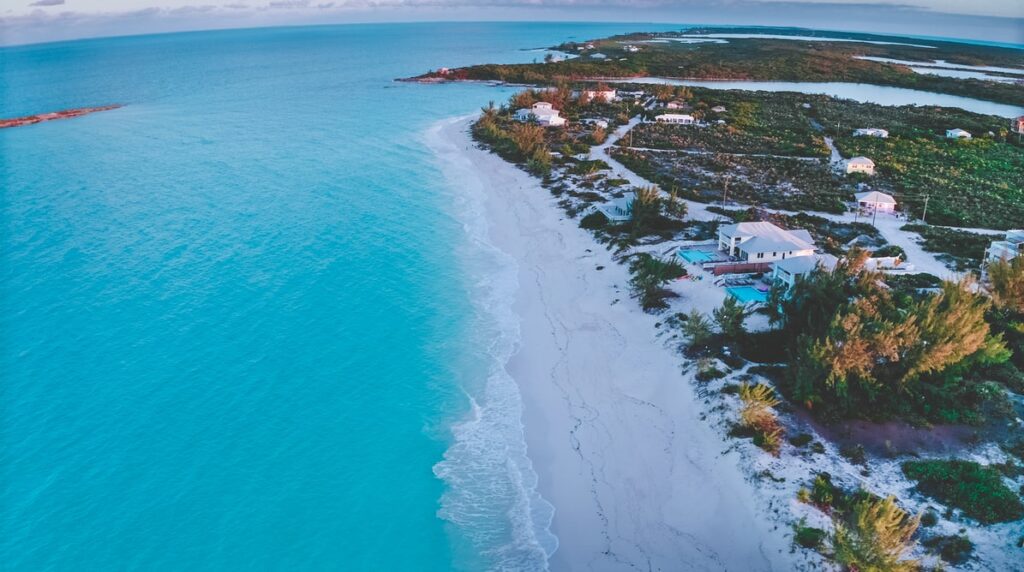 Beaches and turquoise water may be the first things that jump to mind when you think of the Bahamas, but it's worth looking a little deeper to find some more unusual adventures that are possible when you venture into this diverse and beautiful island chain.   Whether you are looking for the perfect cocktail after a day of exclusive shopping; a new story to tell when you get home about the "big fish"; or, the satisfaction of visiting animals you won't find anywhere else…… the Bahamas has it!
Though it's nearly impossible to narrow down the best, the Bahamas always has the best beaches as you can come across. The beaches mentioned above are just a few of the list when traveling the islands in the Bahamas.
If you are looking at the right destinations to have some hangouts with your friends or family, then you should visit familydestinationsguide.com There are many restaurants all over the world which will make your experience more fun and enjoyable. You can enjoy great food at very affordable prices, just as long as you know the best places to go for them.