For the avid AR15 builder, choosing the right stock is as important as what type of barrel you pick to mount in your upper receiver or click here to find a barreled upper receiver. Equally important are the grip and fire systems selected for the lower. The good news is that there are tons of different types of stocks on the market today.
The problem is that not all butt stocks fit or work the same way, so you'll need to clearly understand your shooting style and what you hope to achieve before rushing out and purchasing one.
Compatibility
The average DIY AR15 builder will typically choose the type of stock they're most comfortable with first, then acquire a compatible receiver extension tube, recoil spring, and buffer.
It gets a little tricky if these parts are already in place on your upper receiver and you're looking for a stock replacement or change up. While many manufacturers offer multiple stock types, the challenge is left entirely up to you to understand and pick the stock compatible with your AR15's existing hardware.
Still, the underlying issue of whether you're seeking a more comfortable fit or have other scenarios such as firing your rifle in competition matches will end up being the determining factor in the type of stock you purchase.
You may be asking yourself if there are so many AR15 stocks on the market, how will you know which one is right? To understand that you should know what the basic types of stock are and what use they satisfy.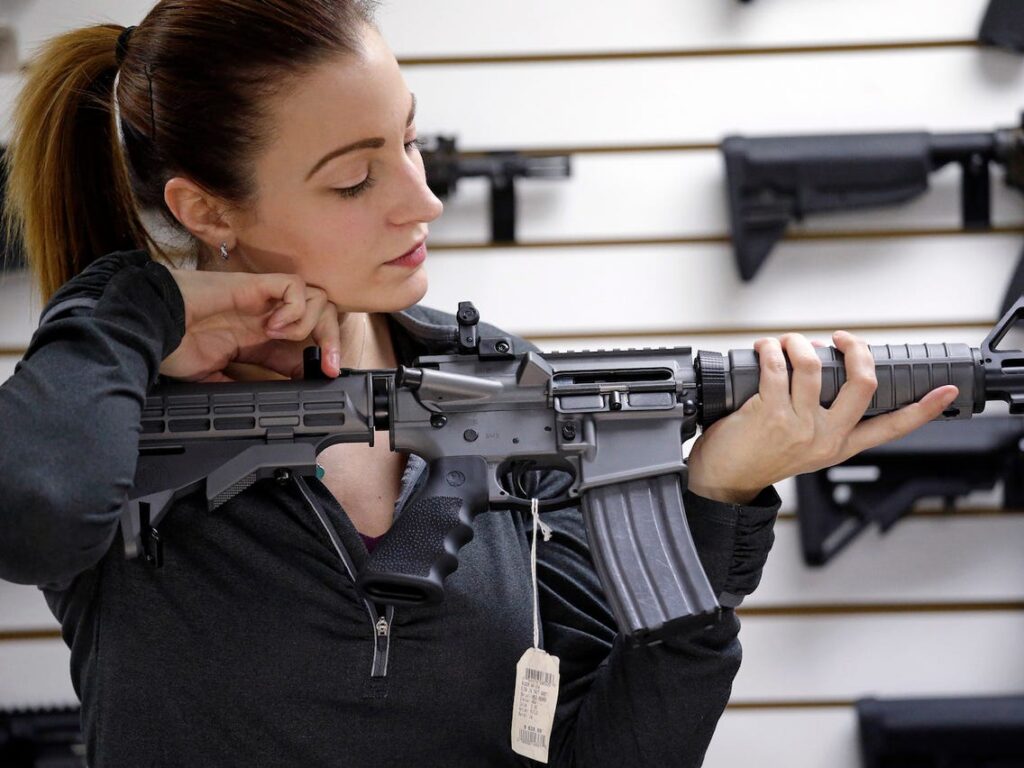 Fixed Versus Collapsible
When you think of fixed stocks, most gun owners think of the A1 used during the Vietnam era. The military chose the A1 buttstock to provide the general population of soldiers with a weapon that could fit anyone who fired the rifle.
Unfortunately, the fixed A1 stock required the rifle owner to be facing their intended target and didn't allow too many opportunities to fire in a prone or kneeling position. Another issue with a fixed stock is just that. It's fixed and can't satisfy various degrees of a length of pull requirement.
Being able to adjust the length of pull is especially important if multiple shooters use the same rifle. It's even more so when participating in a competitive match where accuracy and speed are paramount.
Another advantage of an adjustable stock is those times when you're hunting in cold weather and wearing several layers of clothing. The more padding you have wrapped around you, the further away your body is from the trigger. Adjusting a collapsible stock usually solves this problem.
If, however, you're the only one to use the rifle, and you don't care for cold-weather shooting, you may want to consider purchasing a fixed or possibly an adjustable sniper's stock that quickly becomes a worry-free part of your AR15.
Choosing the right stock for your AR15 isn't complicated once you decide what you're trying to achieve. Your style of budget build may not only be about how your rifle works but how it looks. Perhaps it's all about lightening the overall weight of your rifle.
Maybe you're looking to strip your rifle down to only the barest of essentials. Regardless of the need, here are a few buttstocks you may want to consider when you begin shopping around.
Daniel Defense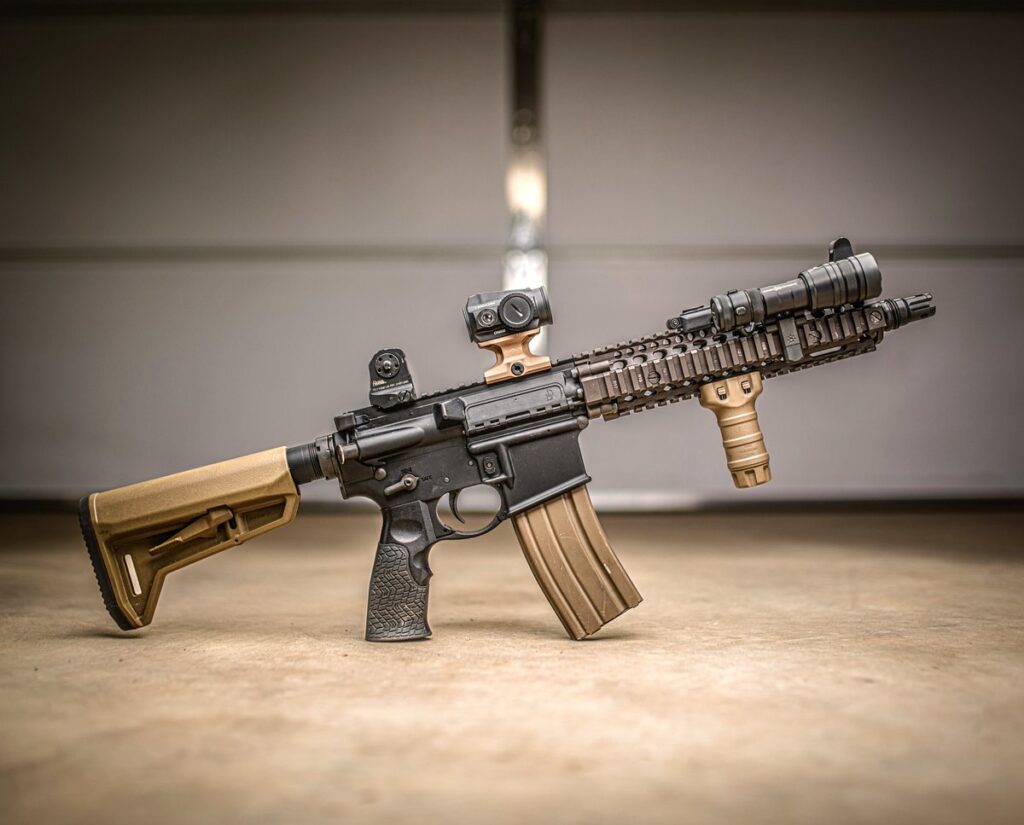 If a lightweight rifle is what you're going for, you may want to consider a skeletonized stock such as a Daniel Defense collapsible stock. The stock ranks high on the most sought-after list and features all the essentials you'll need in a buttstock and some addons that make it one to consider.
Daniel Defense offers the collapsible stock with rubberized padded molding where your cheek will ultimately rest, and not one but two butt pads you can use for those minor adjustment tweaks you need to make to your length of pull.
Because almost all the stock is skeletonized, you get a lightweight and dependable adjustable buttstock that will trim your rifle to its best firing weight and perform flawlessly.
Magpul MOE Carbine Stock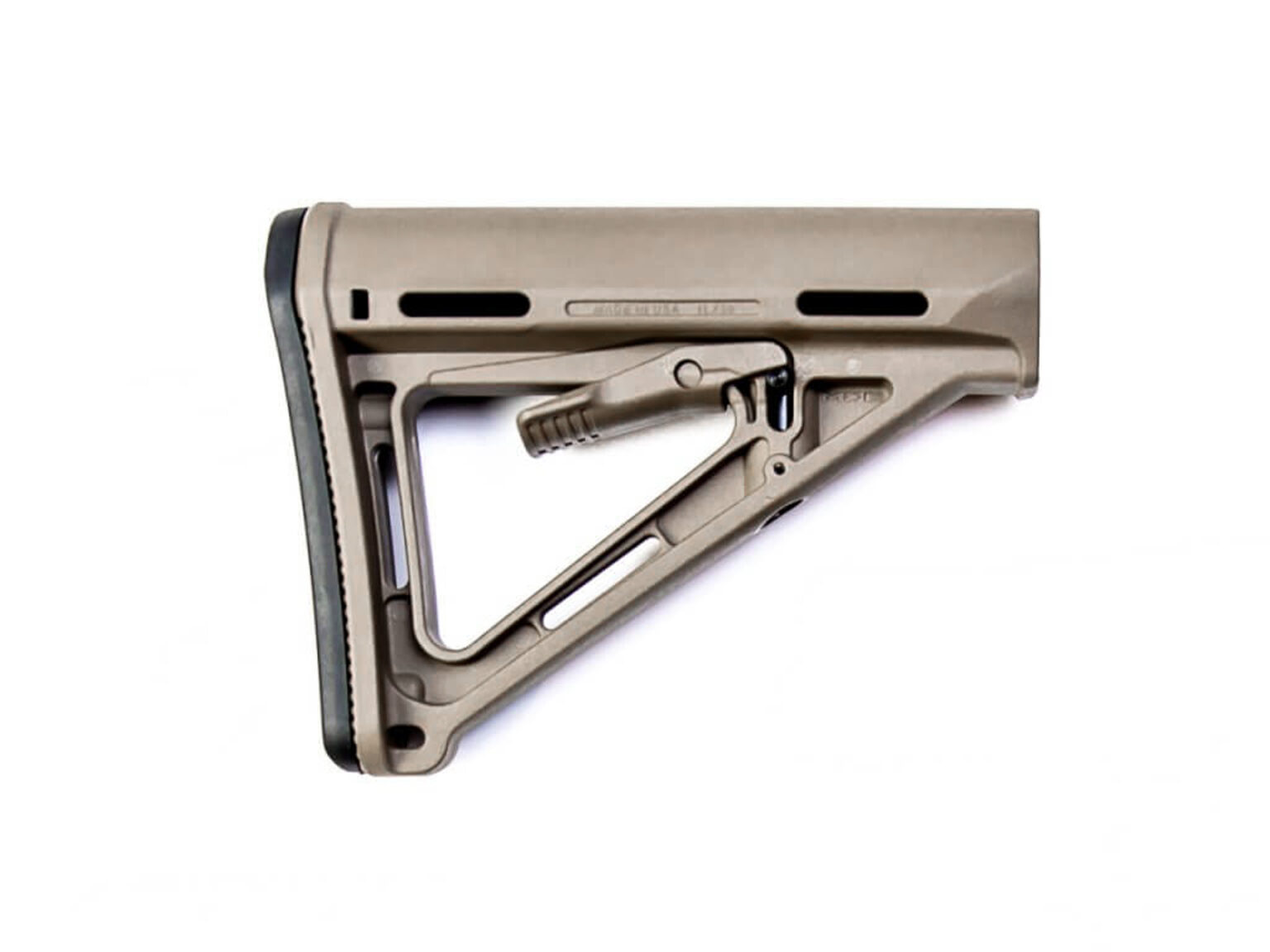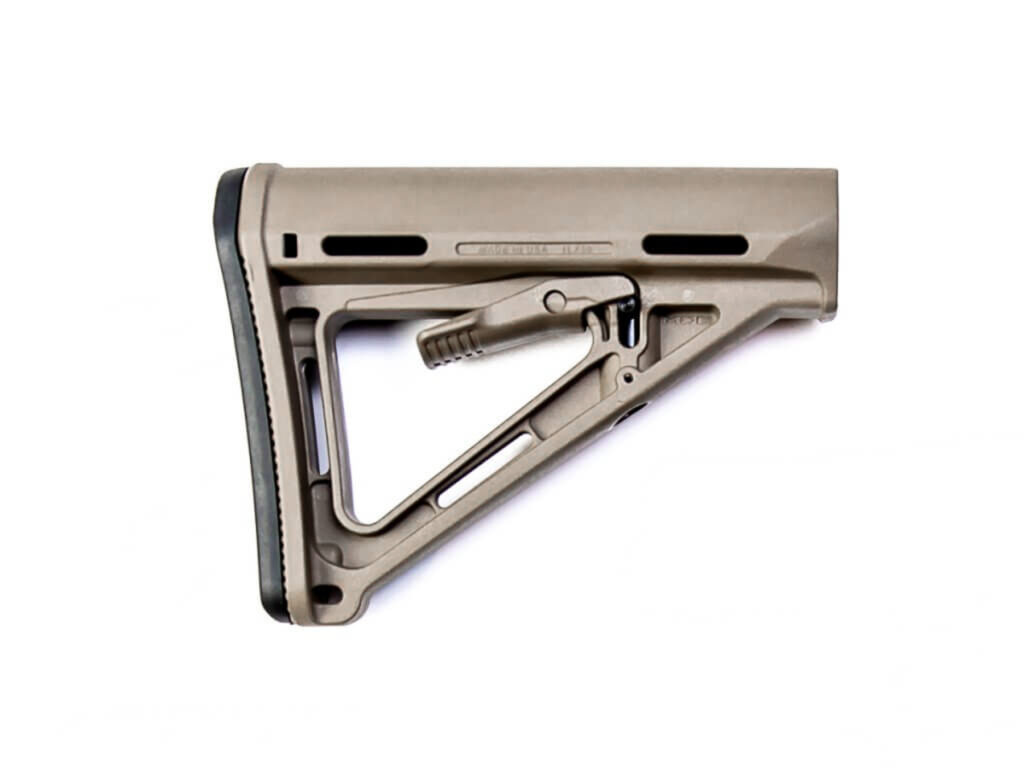 You might be looking for something a little simpler to operate and yet still keep the weight of your carbine rifle to acceptable limits. If you are, then consider the Magpul MOE Carbine stock.
Not only will the Magpul MOE Carbine stock operate efficiently, but it's also skeletonized to minimize overall weight and priced under $50.00. The Magpul buttstock also has the adjust lever located inside the frame, which helps prevent a sudden misalignment of the stock during moments of dynamic activities such as a 3-gun competition.
Battle Arms Development SaberTube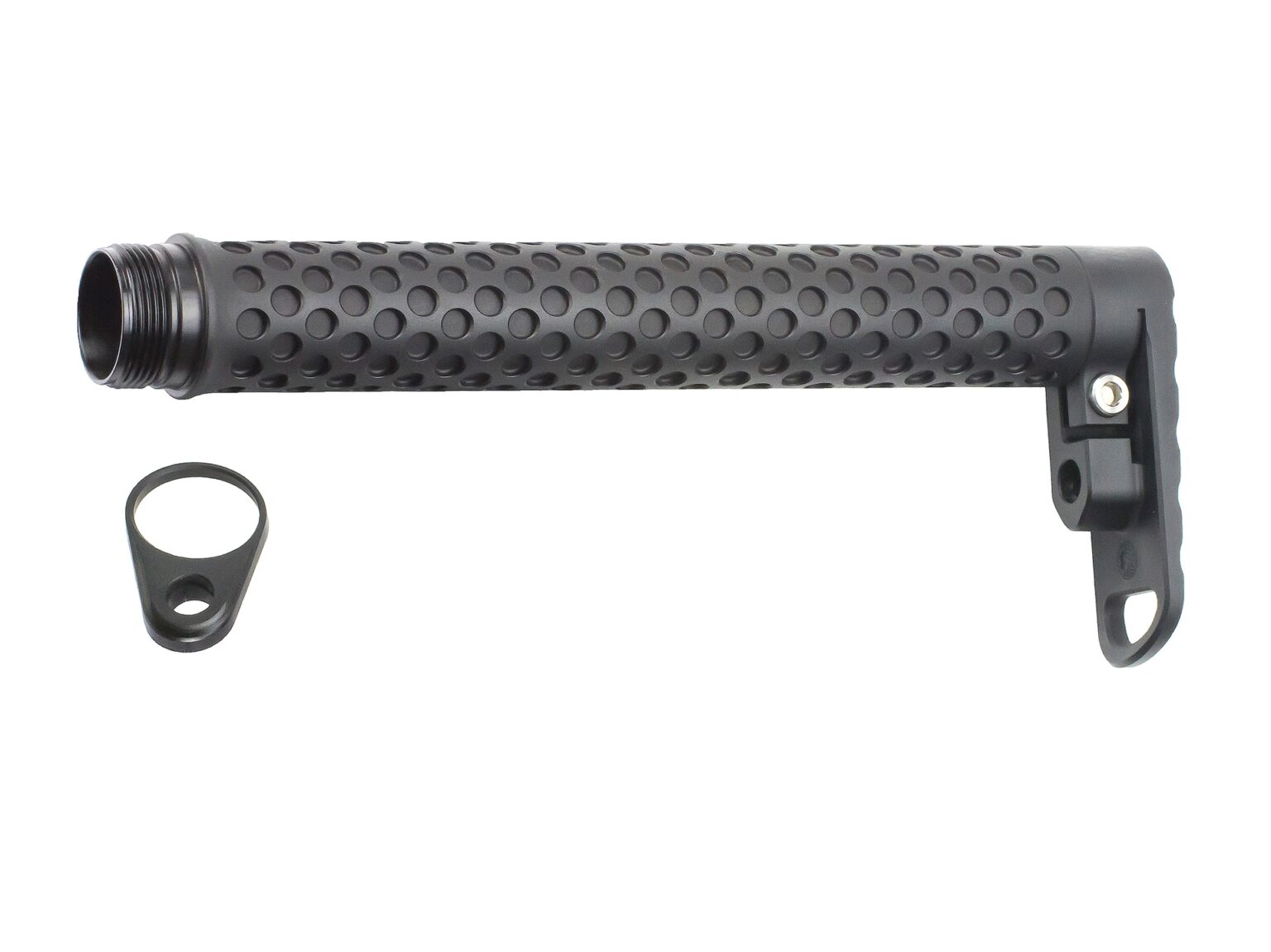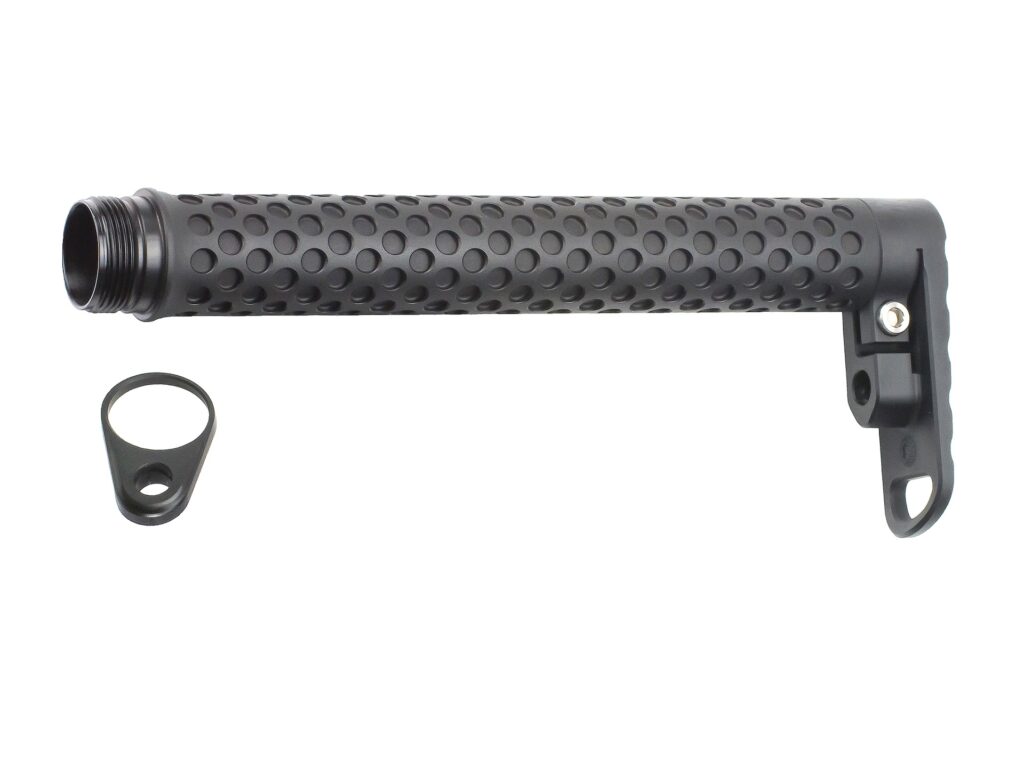 If you're the type of owner who takes lightweight to the extreme and prefers the minimalist approach, then you may want to consider picking up a Battle Arms Development SaberTube. The SaberTube is about as stripped as you'll see on the market, consisting of a length of tubing with a small rectangular plate on the shoulder end of the stock.
Double Star A15/M16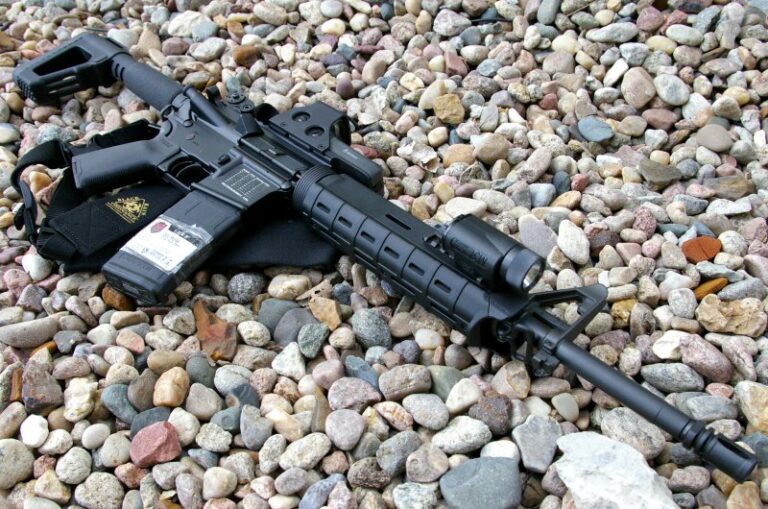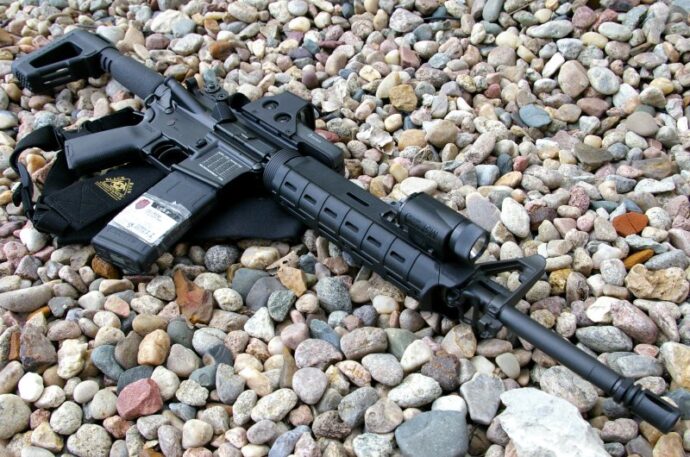 If you don't want to go to that extreme, you can still get the results of a lightweight and practical stock by purchasing a Double Star A15/M16 skeleton stock. In the world of skeletonized buttstocks, the Double Star's intended use includes a portion of your rifle's buffer tube as part of the stock.
Another added feature that comes as part of the Double Star skeleton stock is the sling attachment points. With the three attachment points included, you'll not have to worry about carrying your rifle around anymore. The Double Star A15/M16 skeletonized stock also consists of a foam cover for cheek comfort and comes at a price that won't destroy your budget build.
Brownells M4 Complete Kit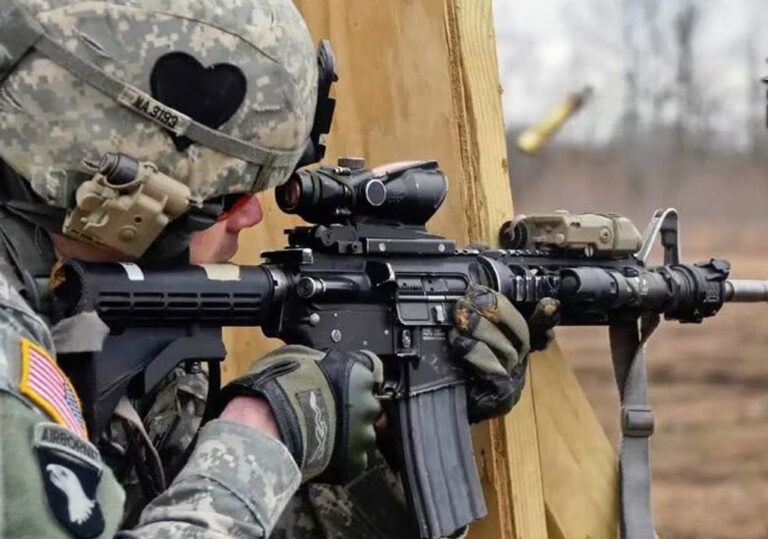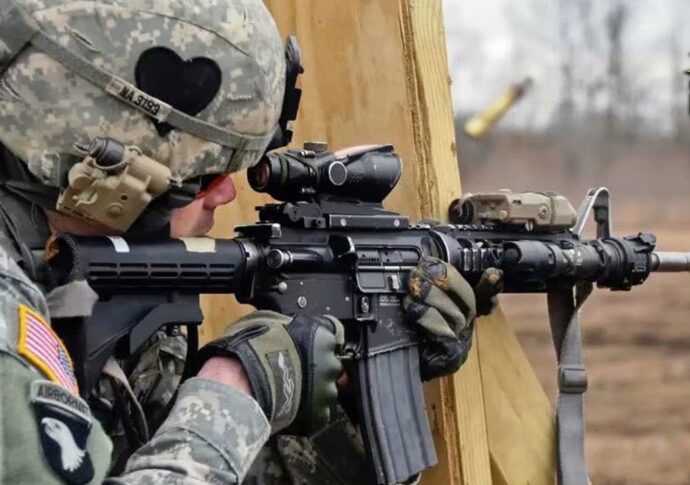 When attempting to stay on budget during your rifle build, nothing tops the M4 stock and kit from Brownells. Not only do you get a dependable and fully functional M4 collapsible stock, but Brownells throws in the proverbial kitchen sink with the addition of buffer tube, spring, buffer, and mounting hardware at a price that will amaze you of around $50.00.
These are just five examples of some of the best quality buttstocks you can attach to your rifle. With so many on the market today, it's a safe bet that there is undoubtedly a stock for whatever requirement a rifle owner has.