If you have a swimming pool in the backyard, chances are your kids (and the neighbors) will spend hours in and around it this summer. Like many other homeowners, installing it is still on your wish list.
Whatever stage you are at, there's no doubt a swimming pool is a major investment and the range of options – in-ground or above, concrete or fiberglass composite, painted or tiled, infinity edge or lap – is increasing all the time. As we know, the key to making good investment decisions is doing your homework, so if you're keen to have one in your garden, here are some questions you need to answer.
1. Why Have A Pool?
Start as you would with any big project by establishing your reasons for wanting it. These will greatly influence its shape, depth, size and possibly even the type of construction. Will you use it for laps, recreation or relaxing? Is it for your children and their friends to enhance a view or to act as a focal point for the garden?
If you have a clear idea of its purpose, the rest of the decisions (and there will be many) won't be so hard to sort out. But before you progress your pool any further, make sure you ask the hardest question – will you use it enough to justify the expense?
2. Is My Site Up To It?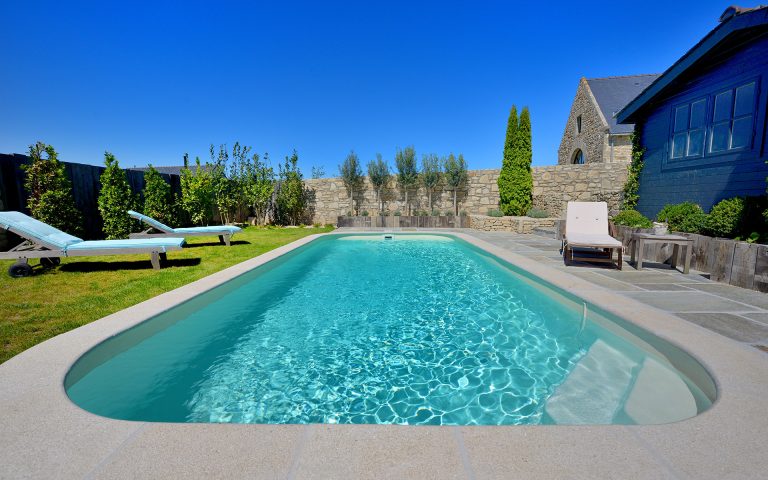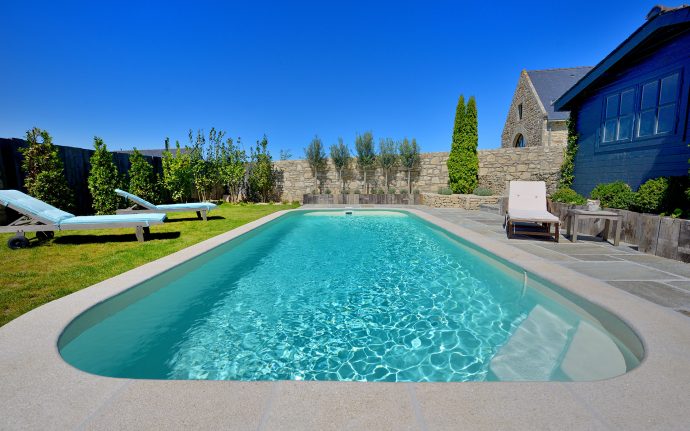 Swimming pools are easier to build on a level site, so construction costs will be higher if your section slopes steeply. Ground conditions such as a high-water table or very sandy, rocky or unstable soil will also make building trickier. Do you live in an area prone to earthquakes, slips, stormwater run-off or flooding? You may need to commission a geotechnical engineering report or, at the very least, have soil tests done to assess the site's suitability.
Your property's size and location will naturally determine size and shape. Tiny urban sites have strict requirements regarding any construction close to boundaries; for instance, shading from other buildings or neighboring trees will also limit where you can position a pool. However, a clever designer can often help find solutions to such issues.
3. Where Do I Put It?
Once you've decided on the type, it's time to work out where to position it. First, check council and building regulations regarding site coverage allowance, pool fencing requirements, proximity to wastewater fields, and the location of utilities such as gas, electrical, telephone, cable and water lines. For your fencing needs, you need to consult experts and contact them to know what materials are best for your project. Other factors to consider include:
View from inside the house and the rest of the garden. Adding lighting or water features will make it more attractive when not in use. Seeing the pool from the house is essential if you have children.
Does the location maximize sun exposure to help keep the water temperature warm? Large trees around it will block the sun, and their leaves will drop into the water.
Wind exposure will cool the water and also increase evaporation. Plant or build screens to shelter the pool.
Circulation routes. How will people enter and exit it?
Poolside relaxing and entertaining. Where will you and your guests hang out?
Where will you keep the filtration equipment, pool cleaner, toys and sun umbrellas? Is there room for seating, a shade structure, or changing area?
4. Alternatives To Chemical Cleaning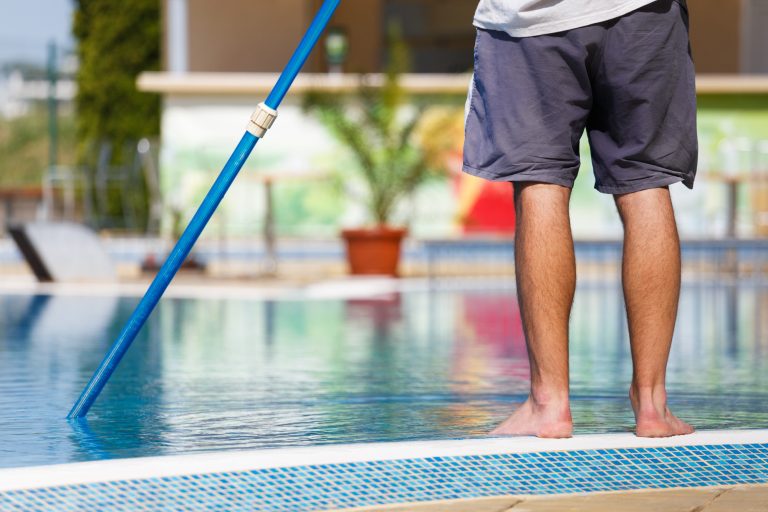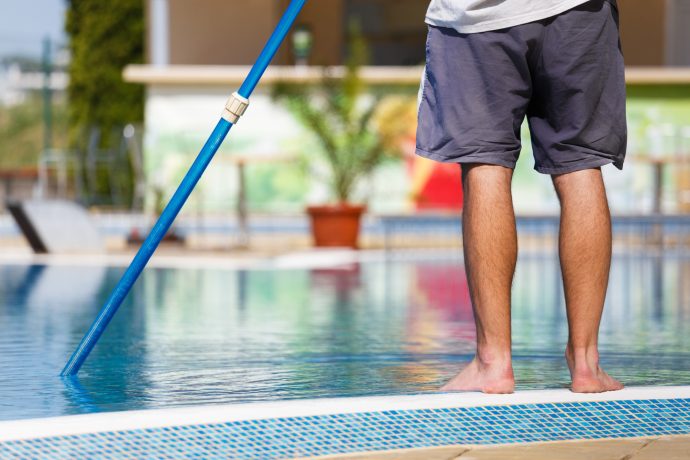 The natural one is a new trend finding favor with those who dislike chemicals and prefer a more natural look in their gardens. These in-ground pools are lined but rely on natural processes and filtering, including plants, to keep the pool clean.
5. Build It Above Or Below The Ground?
The first question to consider when determining construction is whether it should be in the ground or above. Soil excavation and removal are costly, but in-ground pools generally have a more permanent feel than most above-ground types.
However, if you have a steep site, it may be cheaper, faster and easier to install an above-ground fiberglass pool with a surrounding deck, especially if access is tricky. If you're unsure which one is best for you, talk to local contractors, ideally those recommended by people you trust.
The cheapest option is a prefabricated, above-ground type, usually made from fiberglass or steel with a vinyl liner. DIY models that can easily be disassembled are great if you rent and want to take the pool with you when you move.
Options range from basic models with no filtration to larger types suitable for swimming laps, including decking, steps and filtration equipment. Most have a limited lifespan. Know more about the pools at localpools.com.au.
6. What Materials Should I Use?
The two most popular materials used for construction are concrete and fiberglass composite. Vinyl pools, used more overseas than here, are another option. They have a pre-formed flexible liner, which fits into the hole and is attached to a reinforced wall frame made of steel, aluminum or a non-corrosive polymer.
A steel-reinforced in-ground concrete has traditionally been viewed as the strongest and most durable option. Still, advances in fiberglass composite technology have increased this material's longevity and strength.
Although sprayed concrete techniques (rather than boxed poured concrete) have speeded up the process, the installation of a concrete one is still longer than if you use fiberglass because the pool is built entirely on-site. Concrete construction is also very weather dependent, and the porous nature of concrete can lead to algae and mold issues if the interior surface is not properly finished.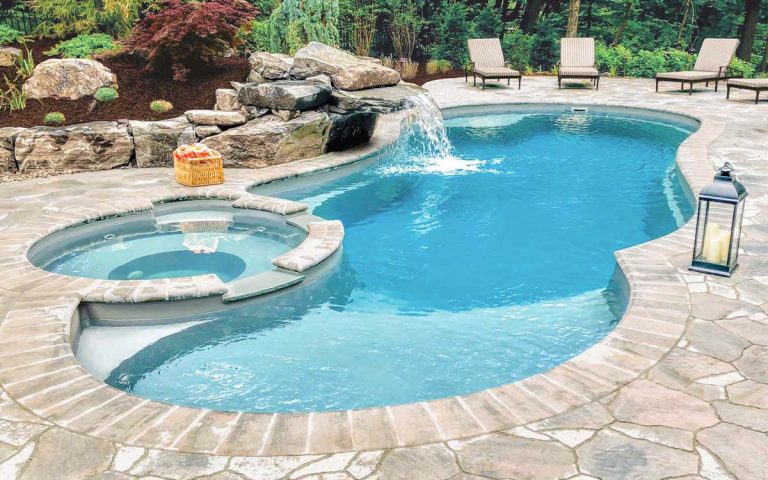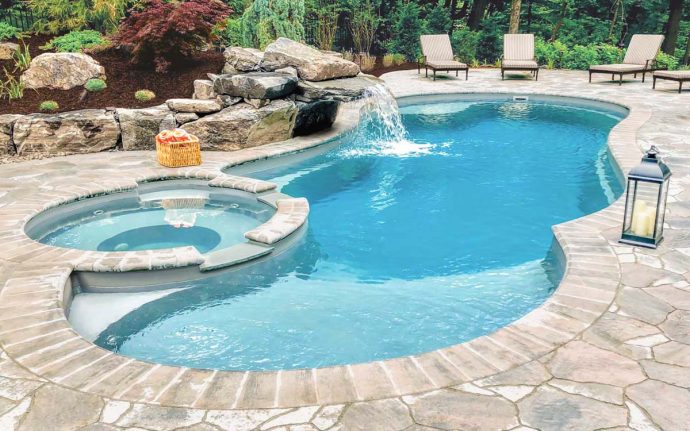 Concrete still offers the best shape, size and depth flexibility if you want a customized design. You can also personalize features, such as an infinity-edge or a 'beach' (gently shelving) entry to the pool. There are many options for finishing a concrete interior, including marble plaster, tiles, pebbles, colored quartz, swimming pool paint or vinyl. You can also re-plaster or repaint existing concrete pools more easily than most other in-ground types.
Fiberglass composite ones are pre-molded into various shapes and either positioned into an excavated hole or set above ground (built with extra-strength stiffening supports). Although you generally can't personalize fiberglass pools as they're pre-made, the range of styles, shapes, sizes, colors and finishes keeps increasing.
Fiberglass composite pools are more flexible than concrete, making them a good option for earthquake-prone areas. One of their biggest attractions is the ease and speed of installation. They are also finished with a smooth gel coat that is very durable and resistant to stains and mold (meaning fewer chemicals to treat the water).
7. Mistakes To Avoid
Choosing the wrong location so you can't move around it easily, it's too shaded, or there's no space for sunbathing and relaxing.
Getting a diving board that you hardly ever use. It would help if you had a deep end for diving boards, which adds to the cost, and young kids need to be closely supervised when using it.
Skimping on decking or paved areas around to save money. Remember that people spend more time beside the water than in it, and trying to add more space after construction can be expensive.
Buying on price alone. Cutting corners is not worth it with swimming pools.
Underestimating the size of the project and the resultant upheaval. Expect dirt and chaos, and you'll handle them better when they happen.
Bottom Line
Adding a pool for family enjoyment takes time and research long before installation. Preplanning will help with the budget and the design. Pools are fun and can add entertainment for years, so these questions will help with the process!