Behind the togetherness of two people there are three magical words "I love you."  Marriage is a very sacred relationship. Two different people comes together with this relationship and live with one another for lifetime. As the years pass by, we show our love for each other through our duties and actions. But due to our responsibilities and business we may fail to express loved in words.
You should express your love not only with your work but also with words. Send some love messages to your wife. You will definitely realize that those words still show their magic on the her. If you are looking for such lovely and sweet messages to your wife, you are on right place!  We have set a list of messages, which are sweet, romantic, and most of all bring out what is in your heart!  Through out the list below.
Best Love Messages For Wife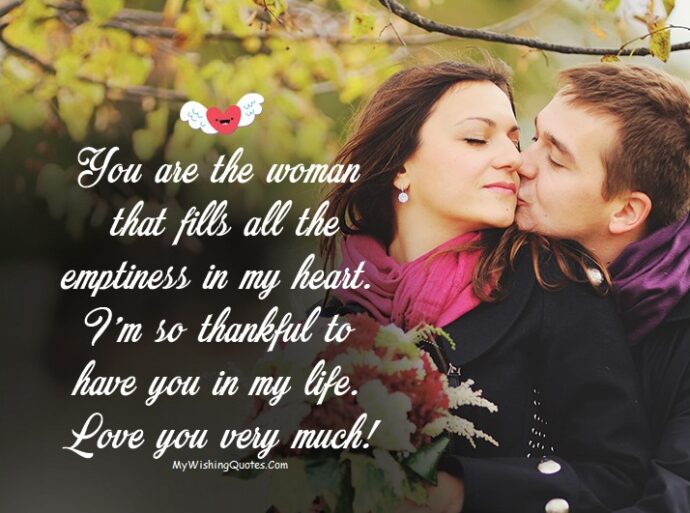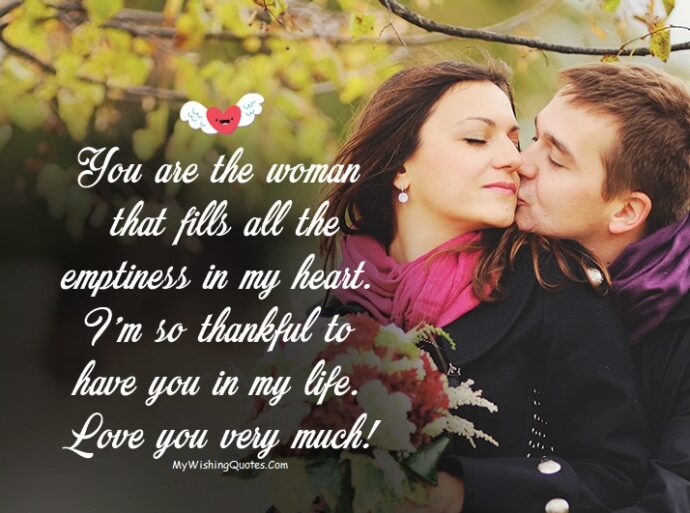 Dear wife, You fill all my emptiness with your endless love. I'm so thankful to have you as my wife. I love you very much!
Loving you is the only right thing I have ever done in my life. I've never been so happy in my entire life. I would be dead without you. I love you.
With you, all my days are worth living. You make my life easy and its journey too fantastic. You are my answered prayer and dream come true. I love you!
You have filled my life with happiness and love. I can risk my everything for you. Because my life is full of fun only for you. You mean a lot to me!
I love you so much my dear wife! The perfect decision of my life was marrying you. I am lucky to have you as my wife.
If you replace L in life with W, you get wife. That is because life isn't worth living without a lovely wife like you. I love you darling.
"I dreamt that you were mine, and then I woke up smiling because I realized it was not a dream. You are already mine!"
"You fill all the emptiness in my heart. I'm so thankful to have you in my life. I love you very much!"
"You are that woman who transformed my imperfections into perfections, just by the touch of your love. Love you my dearest wife!"
Behind every successful man is a woman – whoever said this is 100 percent right. You're the secret behind my success, my dear wife. I love you.
Sincere Love SMS For Your Wife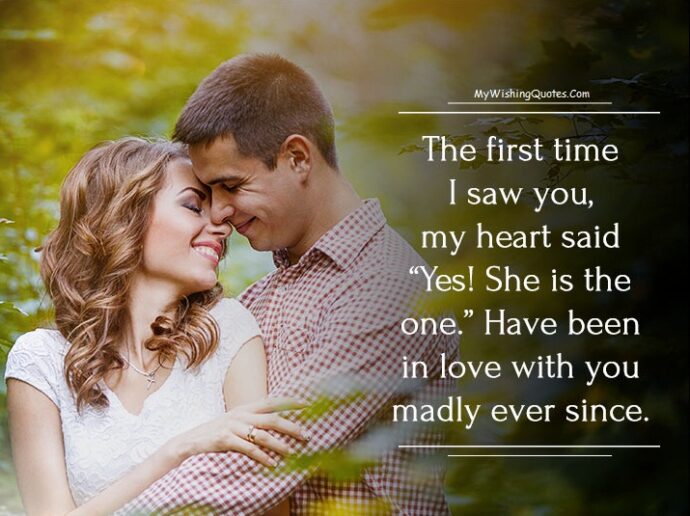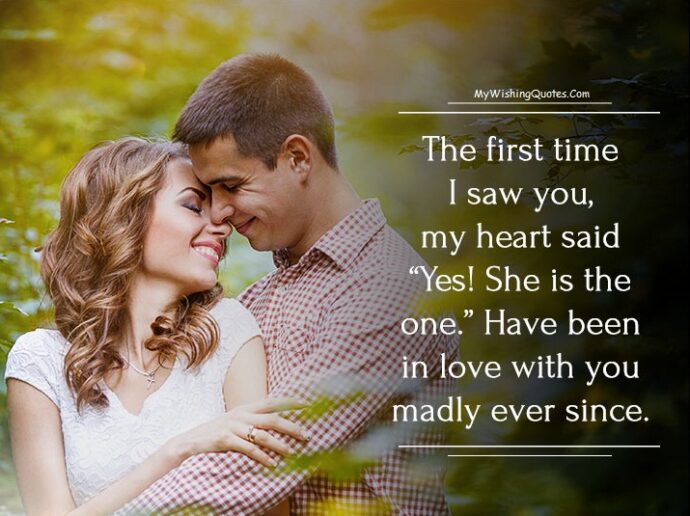 You came into my life and totally changed my world. I have lost total control of myself. I am a changed person. My heart does not belong anymore to me. It's given away to you. I am deeply and madly in love with you.
I always remember the day in which we were married and I feel that same joy in my heart one again. My heart loves you dearly and I do not know what I would do without you. I am very grateful that you are a part of me.
The surreal hues of Instagram are nothing new for me. My life was already drenched in sun-kissed hues since the day we got married. I love you.
I wish to share my life with you. My morning and night, giving it all to you. If you ask why I'll say it's because you deserve more than enough of that. I love you, I really do.
I cannot survive without your love. I feel suffocated when you are not around me. I love you so much. In your love, I think of nothing but love.
Perhaps the monotony of every day has made us lose that magic that existed between the two, but I want you to keep in mind that you are the woman of my dreams and I do not know what I would do without you. My feelings for you are so sincere, you are what I was looking for.
You gave everything, since the time we got married and never ever complained in return So, here is to my sweetest wife, You are my angel, my life!
If I were a cell phone, you would be the charger. I would be dead without you. I love you.
You deserve all of me. You deserve my morning, night and noon. You deserve my present and future Because you are my very best. I love you.
Just like wine gets sweeter as it gets older, you keep getting so beautiful with age. I fall a little more in love with you with every passing day.
Heart Touching Love Messages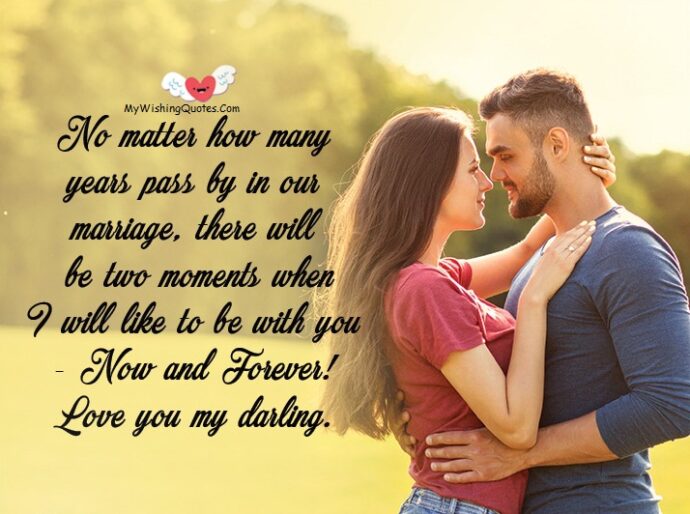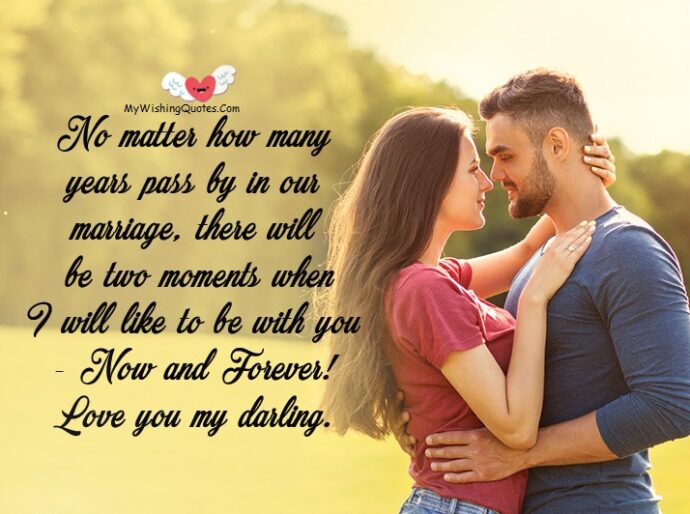 Your love gives me the power to stay, To reach my every way, Your love is like oxygen in my life, Thanks to you my beautiful wife, I love you!
You are, not just the mother of my children, but also the beat of my heart. You are, not just the queen of this family, but also the woman of my dreams. I love you.
Fights and arguments, ups and downs. Hugs and kisses, smiles and frowns. We'll sail through it all together, not just now but forever. I love you.
The doctor told me that antioxidants and omega-3 fatty acids are important for my longevity. But I think that all I need to add years to my life is the love and affection of my dear wifey. I love you.
I often pinch myself to check if I am dreaming. It's unbelievable for me to have such a perfect life and a perfect wife like you. I love you darling.
When we joined our lives forever, we always knew that many difficulties would appear, however, our love won every battle. My love is too big for you, I want you to always love me as I love you!
Flowers need sunshine, Violets need dew, all angels in heaven know I need u. years may fly, tears may dry, but my love with u will never die.
Early mornings and late nights are the best part of my day because I get to kiss my wife Good Morning and Good Night. I love you.
Your love is food for my heart, mind and soul without which I cannot survive a single second. You know my heart beats for you and only you. My darling wife, I love you.
My wife, you are my secret of happiness and success I will never confess.
Romantic Messages For Wife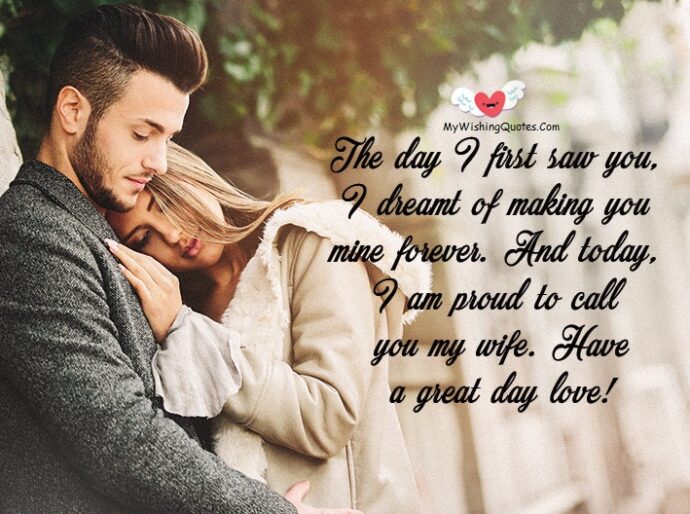 You are the woman I dreamed of. The Woman who made our beautiful family a reality. The Woman that gave meaning into my life!
You can make the clouds go away and paint the sky with the brightest colors of our love!
Seeing your face brightens the darkest day of my life. Your love is the light that illuminates my path. You are a gift to me from heaven to make me shine. I love you, sweety!
My heart has taken forever by the most gorgeous woman in this world and I called her my sweet wife. I love you now and will love you forever!
Looking into your eyes makes me calm and excited at the same time. In fact, you are so much fun to be around. I'm blessed and lucky to be your husband. Love you!
From the moment I first laid eyes on you, I knew you were a perfect match for me. I love everything about you.
I will be always by your side in good and bad times, in happy and sad moments…because I love you!
Meeting you has been the highlight of my life. I want to spend all my tomorrows finding out more and more reasons to be in love with you.
Your beauty mesmerizes me. Your sense of humor puts a smile on my face. Your kindness and compassion fill me with awe. Thank you for being all that I could ask for in a woman and so much more.
I promise to stay beside you in all ups and downs, smiles and frowns. You are the beat of my heart, my life revolves around you… and nothing else matters.
Sweetest Love Messages For Wife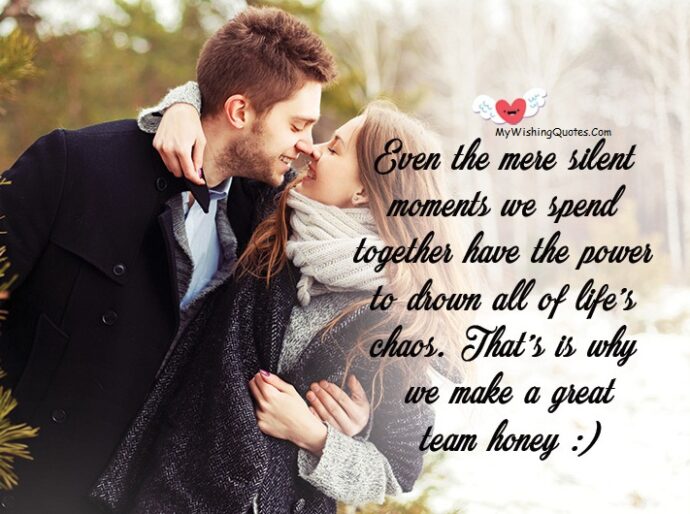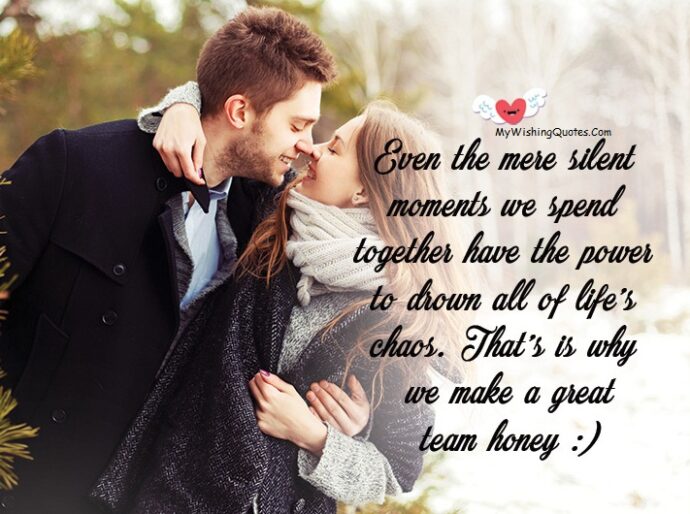 If God asks me to pick between laughing together and crying together, I would pick crying because I'd never want you to cry alone. I love you!
I can feel my heart beating so fast. People think I'm gone crazy and so I am. I'm just crazy in love with you, my wifey.
As long as there is me, Your heart will be the best it can ever be. To keep your heart unbroken is a promise I am willing to keep. I love you.
Every time I see a smile on your face every time I get up by your side, I get really happy. It is impossible not to sleep with you. I want to be with you until we are old men and although we will no longer be the same, I know that I will love you very much.
Love is too weak a word for what I feel for you. One life is too small a time to express how madly I am in love with you.
My heart beats only for your love. Life with you feels like a fairytale, so beautiful and pure. Let us live in this world of love forever. I love you.
I found my life's true meaning because of you, since the day you married me. I love you my beautiful wife!
You've made our house, our home and turned our relationship into a beautiful family!
From the first day that I met you, I had this feeling for us. The feeling of peace and happiness for our common life.
When I look into your eyes, I still have these feelings of impatience and admiration both at the same time.
Say I love You To Wife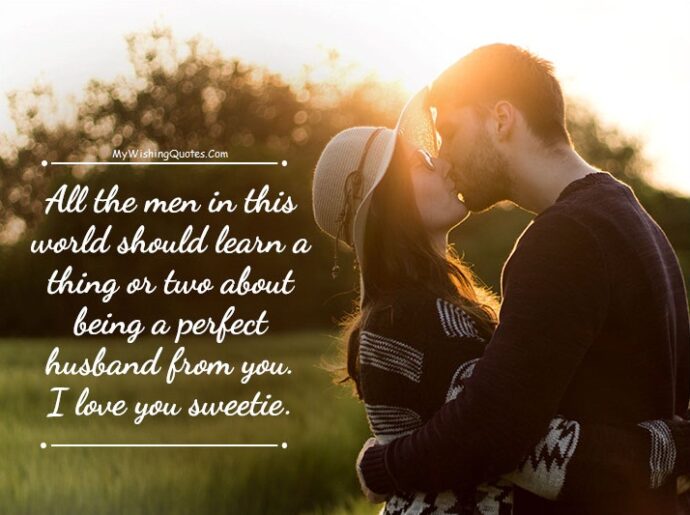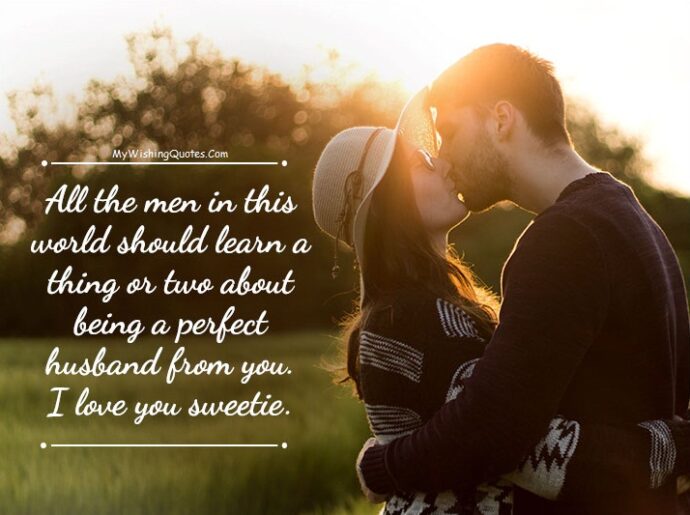 You are my motivation to keep on going and the reason of everything good that happens in my life! My wife, you are the best gift for me!
My love for you is endless and I will always be thankful to you for all the things you've done for our family!
After all these years of our marriage, we are still building on our relationship, something that everyone is jealous of. I love you dear!
After all these years of marriage, I surely know that you are the only one woman I want to grow old with. Our love will keep us together until death comes between us.
When I see your smile, I realize the reason of still being crazy in love with you, my dear wife!
As the years go by, our marriage is becoming more and more stronger through the good and bad times. Thank you for always being by my side and I promise that I will always be by yours!
There is no doubt that you are the sweetest. The way you make me merry makes me know that you are the cutest. I love you for a lifetime. Mwah!
No matter how secured I would ever make my heart, You will remain the only one with uninterrupted access. Don't ask why you just deserve it! I love you.
Each time I look at your gorgeous face, I feel my heart melt in your love. I just cannot stop thinking about you. I love you.
I love you more than anything in my life. You are the rose that makes my life beautiful!
Deep Love Messages For Wife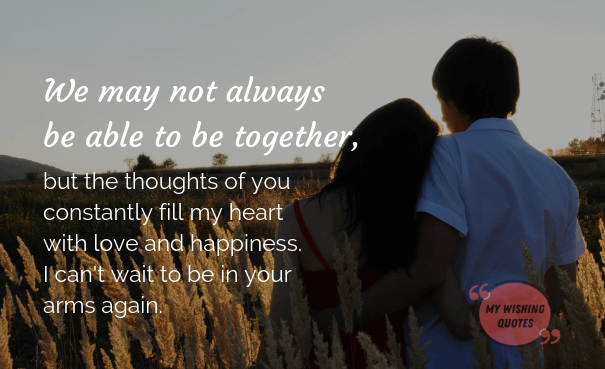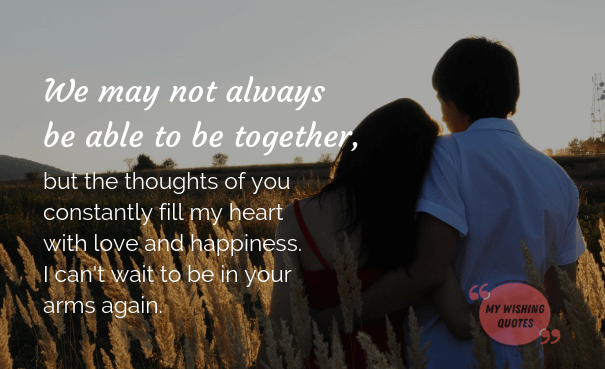 All my life, right from my birth, God has always wanted me to be happy. That is why he gave me a wonderful woman as a mother, and an angel for a wife.
Just like brick complements mortar to complete a building, you complete me.
I can't describe my feelings for you. I love you, but how can I prove my heart's feelings? My feelings will never diminish and will keep growing stronger every day.
The impact of your love is undeniable. It has made me realize how much I adore you. My life with you has transformed my dreams into realities.
Without you solidly and firmly beside me, it would be impossible for me to be half the man I am now.
If you asked me to throw in my last dime into a lottery ticket, I would do that without much hesitation.
When it's cold, your love keeps my heart warm. When it's hot, your love melts my soul and keeps me secure. I can't help but love you forever.
There is an ocean in your eyes, and I can see myself inside of it. It's impossible to measure the depths of the love that I feel for you.
I'm grateful you are thoughtful, I'm grateful you are understanding, I'm grateful you are so much fun to be around, but most of all I'm grateful you are my wife. I love you!
From what you have been to, and done for me these past years, I have total confidence in you my lovely wife.
If we are agreeing or disagreeing, if we are fighting or making love, no matter how extreme the contrast is, you always make it worth the while, wife.
I looked for a woman I could live with, but I ended up marrying the woman I can't live without. I love and cherish you.
I always look forward to sharing special moments and big occasions with you. Those are the moments we will remember forever. But I also love sharing simple and quiet days with you. I love being together no matter what. I just simply love you Soo much.
I never knew that love is this beautiful until you came into my life. I love you more than you know.
I knew as soon as I first saw you that my heart was yours forever. How lucky can someone be when the person he loves also loves him back? You are the best wife I could ever ask for.
I know the meaning of true love because you showed it to me. You have been with me through everything, and you have shown me nothing but unconditional love. Thank you, my love.
The first time you told me you love me, it felt like I was being brought back to life. You made me live again, and you opened my eyes to all the beautiful things that life has to offer.
You are the reason for my happiness. You give meaning to my life and add another dimension to it. You make me a better husband. We will still face challenges, but it comforts me to know that I have you by my side.
Our life together is a dream come true. Life has been good to us, and I am confident that we will overcome anything we must face. I know that our love will see us through.
We have such a beautiful, magical, exciting life together, and I wouldn't change anything for the world. We have proven to each other that we are truly soulmates. I love you with all my heart.
On the first day I met you, I had a special feeling about us. It was a feeling of peace and happiness believing that my dreams were about to come true.
Even after all these years of being married, our relationship continues to grow and thrive, and we still have so much fun together. You are the light of my life.
I wouldn't want it any other way, you are the best wife ever.
You are magnetic. You attract the good things life has to offer. You attract joy. You attract happiness. You attract favour.
Being around you makes great things rub off on me. I feel unworthy to be called your husband.
When I am in your presence, my heart is full and I feel stronger, wiser, and more confident. You inspire me to reach deep into my heart and love you with all of the passion I have.
I will keep caring, adoring and loving you forever, during the easy times and the challenges we will face. We are in this together, and you are my partner for life.
How did I get so lucky to deserve someone as beautiful as you are, both inside and out? I am grateful every day that you said "Yes" when I asked you to marry me.
Even after all of this time together, you still give me a thrill when you kiss me. My heart still skips a beat every time you look at me in a loving way. I am head over heels in love with you, and this is how it will always be. I Love U my dear Wife
You are passionate about love. I love how you make your love a consuming fire. It comes in, occupies every space left in one's heart, and then gives it this warming soothe.
Romantic Love Quotes For Wife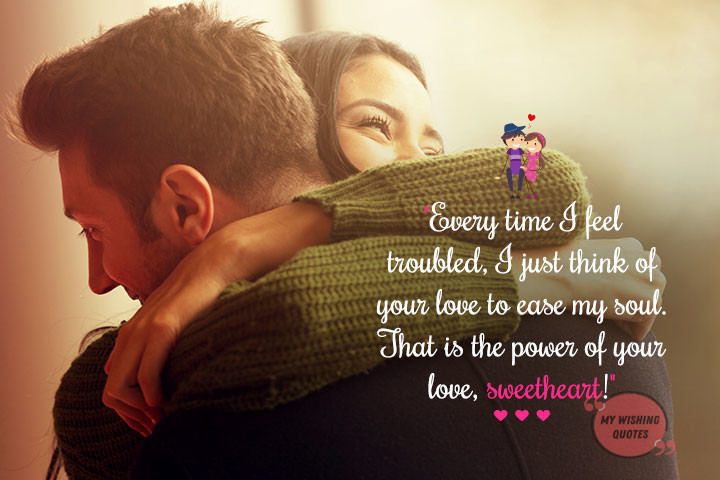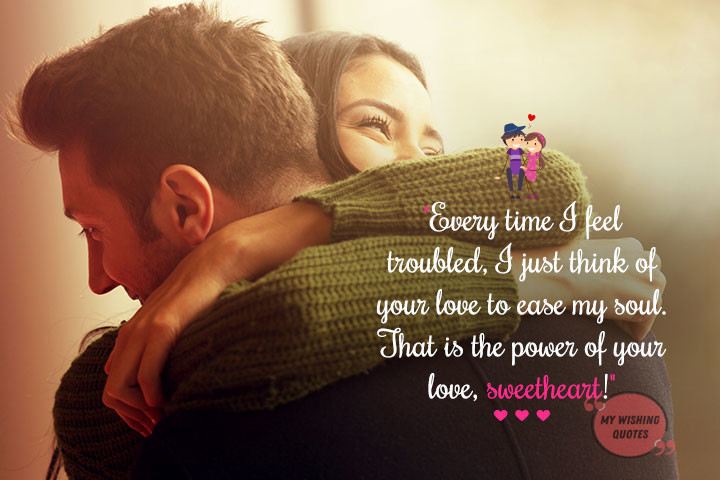 Romantic Love Quotes
Romantic Love Quotes are the combinations of some special words that every partner expects from each other. These are unique words that show the feelings of the sender about the receiver. Such words are just according to the expectations of the receiver. Every wife expects some special and unique words of such type that ensure her about her husband's feelings. She waits for some special way to express such a special type of feelings to be expressed. Therefore, every husband should have to choose some special words like Romantic Love Quotes to express his feelings to his wife. He should have to choose some special way to express his feelings completely and perfectly.
Having you as my wife is just not enough reason for us to be together, but as a friend and the unending love that brought us together, my joy I adore you so much. I love you, my queen.
Never ever change because I love you just the way you are.
I know that I have made lot of promises to you, but one thing is for sure is that I will never hurt you knowingly or unknowingly. I will make it a promise to keep to my promise, my angel.
Your sweet smile is intoxicating, your warm caress is calming, your beauty is breathtaking, you are simply amazing.
You are the love of my life, have I ever told you how much you mean to me? my peace you are so wonderful that I don't even know what to say. Darling, you are my jewel.
Forever is a long time, make sure you spend it with someone who makes you giggle…
Every single day we spent together always bring it own beauty, every time we say I love you remain me of how dare and so romantic we are together forever. I admire everything we do.
You always make me feel like I'm the best and luckiest guy in the world.
You know I don't have much to say to you, but I know is that my life revolves around you, my queen, I love you angel of my life.
In a sea of people, my eyes will always be searching for you.
Loving you is my job, taking care of you is my habit, enjoying your meal is the best thing that always kept me going, your love is my eternal. I assure you that our unity is wont it. I love you my joy.
If I had a flower for every time I thought of you…I could walk in my garden forever
My love you are an angel sent from heaven, you are not just the mother of my kids, you gave me more than enough. Queen of my heart I hail you. just checking on you, love u my dear.
I might not be a perfect person, but that's okay, because I found the perfect partner in you.
Honey my heart beat just for you, my body always yell for you, it doesn't matter how many years that have pass by, our love is still as new as yesterday. I adore you with all my heart.