Milan, known globally for its fashion and design, is home to one of the world's most impressive cathedrals: the Milan Cathedral, or "Duomo di Milano" in Italian. If this architectural marvel is on your Italian itinerary, here's a guide to enhance your visit, paired with essential ticketing advice.
Milan Cathedral: The Heart of Milanese Culture
Nestled in the heart of Milan, the Duomo is not only the city's most iconic structure but is also the largest church in Italy and the fifth largest in the world. Its Gothic facades, adorned with over 3,400 statues and 135 spires, have stood witness to the ebb and flow of Milan's rich history over six centuries.
Exploring the Grandeur
**1. Stunning Exteriors: Before entering, pause and marvel at the cathedral's intricate facades. The white marble, sourced from the quarries of nearby Lake Maggiore, dazzles in the sunlight, making it a photographer's dream.
**2. Breathtaking Interiors: The vast insides house numerous altars, sculptures, and stained-glass windows. The sunlight streaming through the windows paints a beautiful tapestry of colors, invoking a sense of divine tranquility.
**3. Roof Access: For a unique perspective, climb up to the cathedral's roof. The panoramic views of Milan, combined with a close-up look at the Duomo's spires, make for an unforgettable experience.
**4. The Golden Madonna: Atop the cathedral's highest spire stands the Madonnina, a golden statue of the Virgin Mary, watching over Milan.
Ticketing Tips for Duomo Milano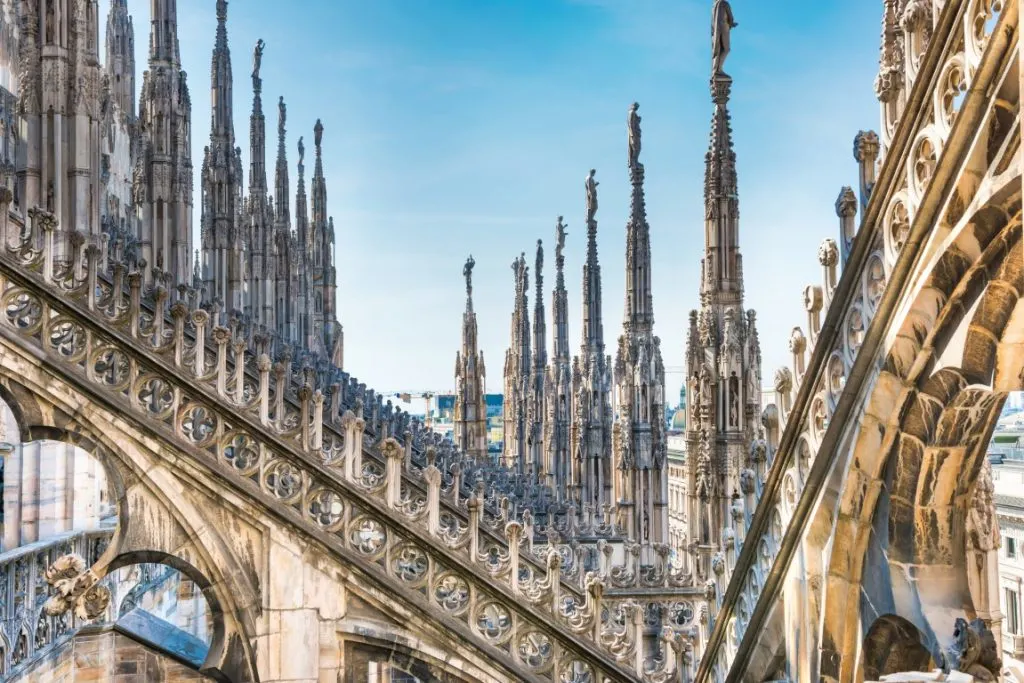 **1. Advance Purchase: The Duomo attracts visitors from around the globe. To ensure your spot and avoid long waiting lines, buy your tickets well in advance, especially during peak tourist seasons.
**2. Official Portal: Always commence your ticket hunt from the official Milan Cathedral Tickets website. This guarantees authentic tickets and often provides comprehensive tour packages.
**3. Decide on Access: The cathedral offers various ticket types, from basic entry to inclusive ones covering the archaeological area, the Duomo Museum, and rooftop access. Decide what you want to see and choose accordingly.
**4. Opt for Guided Tours: To truly appreciate the cathedral's history, art, and architecture, consider booking a guided tour. Knowledgeable guides bring to life the tales and intricacies that might be missed otherwise.
**5. Discounts are Available: Seniors, students, and children usually enjoy reduced ticket rates. Carry relevant identification to ensure a smooth entry process.
**6. Morning or Late Afternoon Visits: To avoid large crowds and revel in the Duomo's serenity, consider visiting during the early morning or late afternoon.
**7. Combined Passes: If you plan on visiting other Milanese attractions, check for combo tickets. They often offer a more economical way to explore multiple sites.
The Duomo di Milano, with its towering presence and intricate details, is more than just an architectural masterpiece; it's a journey through time and a testament to Milan's cultural and religious heritage. Armed with this guide, you're set to make the most of your visit, soaking in the cathedral's grandeur and navigating the ticketing process with ease. Buon viaggio, and let Milan's crowning glory captivate your heart!
When one thinks of Milan, the majestic Duomo, high-end fashion boutiques, and a bustling business hub might come to mind. But Milan, one of Italy's most diverse cities, offers far more than its renowned landmarks. Dive into this guide to explore the lesser-known treasures of Milan.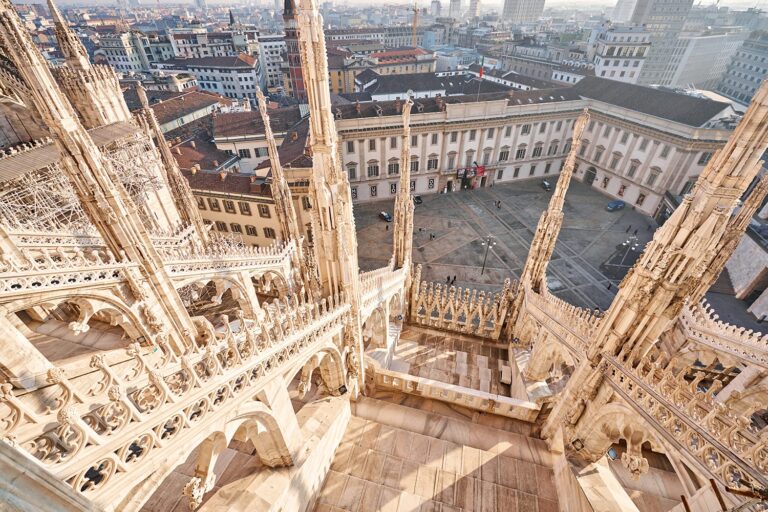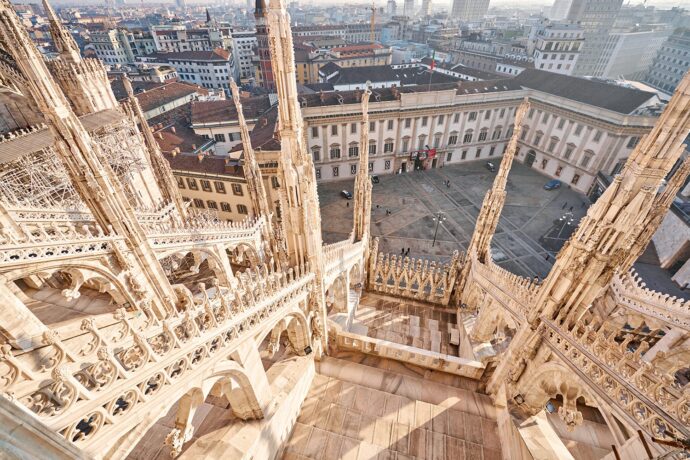 1. Navigli District
A picturesque neighborhood with a network of canals, Navigli is Milan's bohemian heart. Visit in the evening to see the canals come alive with restaurants, bars, and live music. The last Sunday of every month hosts a vibrant antique market.
2. Pinacoteca di Brera
While Milan's art scene is dominated by Da Vinci's Last Supper, the Pinacoteca di Brera, housed in a 17th-century palace, offers a rich collection of Italian Renaissance art. Works by Raphael, Caravaggio, and Bellini await art enthusiasts here.
3. San Maurizio al Monastero Maggiore
Often referred to as the 'Sistine Chapel of Milan', this hidden gem boasts stunning frescoes that cover every inch of its interiors. Despite its beauty, it remains less frequented, providing a serene artistic experience.
4. HangarBicocca
A modern, industrial space dedicated to contemporary art and exhibitions, HangarBicocca is a haven for modern art lovers. It's off the typical tourist trail, making it a peaceful spot to absorb some avant-garde creativity.
5. Corso Como 10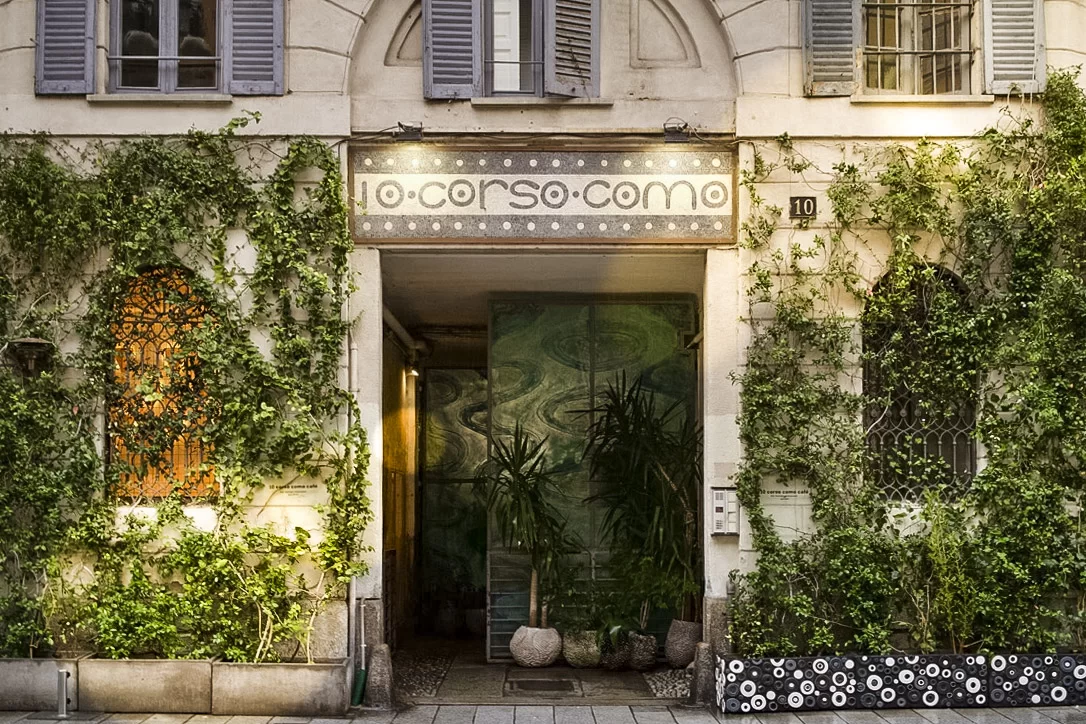 A unique fusion of art, fashion, music, and design, Corso Como 10 is a multifunctional space. Dive into its bookstore, view the latest photographic exhibitions, or enjoy a rooftop drink overlooking the Milanese skyline.
6. Villa Necchi Campiglio
A journey back to the 1930s, this villa is a beautiful example of Milanese residential architecture. Its art deco interiors, lush gardens, and a pool provide a quiet respite from the city's hustle.
7. The Columns of San Lorenzo
These ancient Roman ruins are a testament to Milan's long history. At night, the area transforms into a popular local hangout, perfect for an evening aperitivo.
8. Parco Sempione & Arco della Pace
Behind the Sforza Castle lies Parco Sempione, Milan's green lung. Wander around its pathways, enjoy a lakeside picnic, or marvel at the imposing Arco della Pace, a triumphal arch with rich historical significance.
9. Fondazione Prada
An institution dedicated to contemporary art and culture, Fondazione Prada is housed in a former gin distillery. Its gold-clad tower and unconventional installations offer a fresh perspective on Milan's art scene.