Rwanda is one of the smallest countries in East Africa that is known for its stunning natural beauty, unique wildlife, and rich culture. One of the most popular attractions in Rwanda is the mountain gorillas that are protected in the Virunga Volcanoes within the remote northwestern part of the country. Today, Rwanda is a hotspot for gorilla trekking, adrenaline-filled adventures that offer visitors an unforgettable opportunity to see endangered mountain gorillas in Volcanoes National Park. The country is home to more than a third of the world's remaining mountain gorillas, making it a must-visit destination for nature lovers and adventure seekers.
Gorilla trekking in Rwanda's Volcanoes National Park is a highly regulated and controlled activity that requires to do some preparation before your visit. To get the best experience out of your visit to the green bamboo forest in western Rwanda, you must plan your trip well in advance. The hike through the steep slopes of magnificent mountain ranges of the Virunga Volcanoes doesn't come simply! Below is our precise expert guide to gorilla trekking in the evergreen bamboo forests of Rwanda;
When to go Gorilla Trekking in Rwanda
Gorilla Trekking can be done all year round. However, most travelers opt for the dry season. Rwanda's dry season runs from June to September and December to February, making it the best time to go gorilla trekking. During this time, the trails are drier, making it easier to hike through the forest.
The rainy season, which runs from March to May and October to November, can make the trekking experience more challenging as the trails become muddy and slippery. Despite this, there are rewards for visiting the mountain gorillas in the rainy season. The treks are usually shorter since the mountain gorillas do not roam far from the park. In addition, there are usually discounted rates for the permit and accommodation offered from different lodges.
Booking a Gorilla Trekking Permit for Volcanoes National Park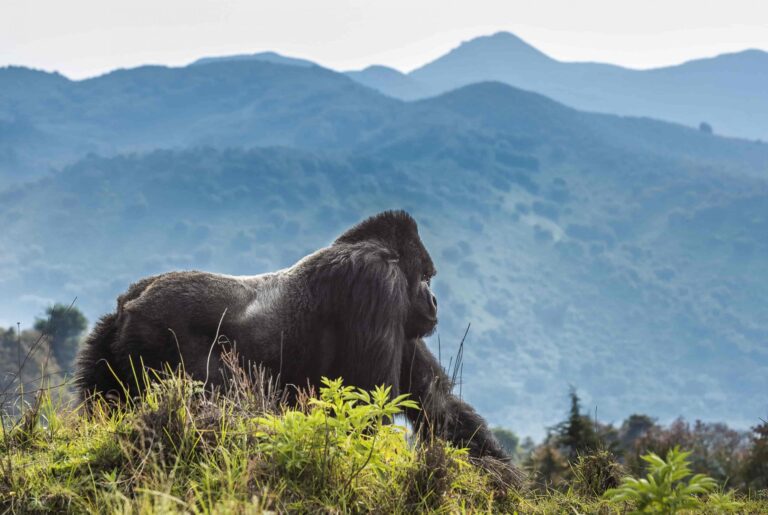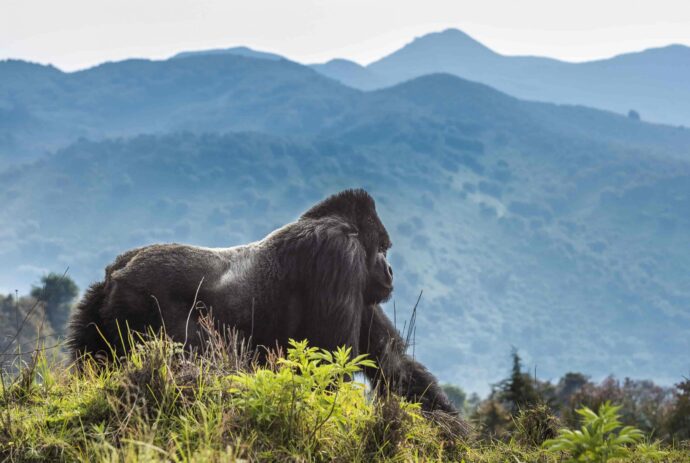 To go gorilla trekking in Rwanda, you will need to book a permit from the Rwanda Development Board. The permits are limited to eight visitors per gorilla group per day, so it is crucial to book in advance to avoid disappointment.
You can book your permit through a tour operator or directly with the Rwanda Development Board (RDB). For travelers, looking to gorilla trekking in the peak months (June to October and December to March), it is important to book your permits well in advance. You are advised to plan and book your trip at least 6 months before the actual travel time.
Choosing A Tour Operator
When choosing a tour operator, it is essential to look for one with experienced guides and a good reputation. Gorilla trekking in Rwanda is a significant investment, and it is crucial to choose a reputable operator who puts safety first. You can ask for recommendations from friends who have been on a gorilla trekking tour or look for reviews on travel forums.
Physical Fitness
Gorilla trekking can be physically demanding, and it is essential to be prepared. It involves hiking through rough terrain and steep slopes, so you should be in good physical condition. It is recommended to start preparing at least six months before your trip by doing regular exercises such as hiking, cycling, or running.
For the disabled and aged, you can plan with your local operator to take use of the special arrangements that are set by the park to make sure there is accessibility of the great apes.
What to Wear on a Gorilla Trek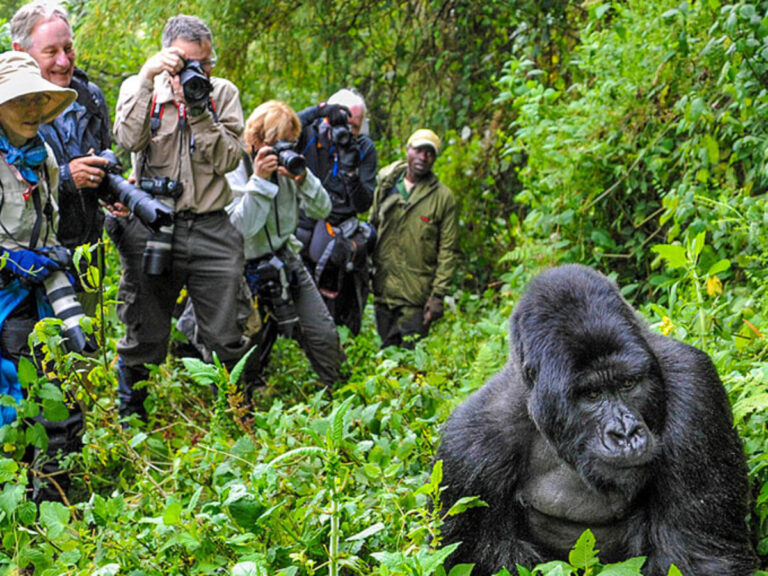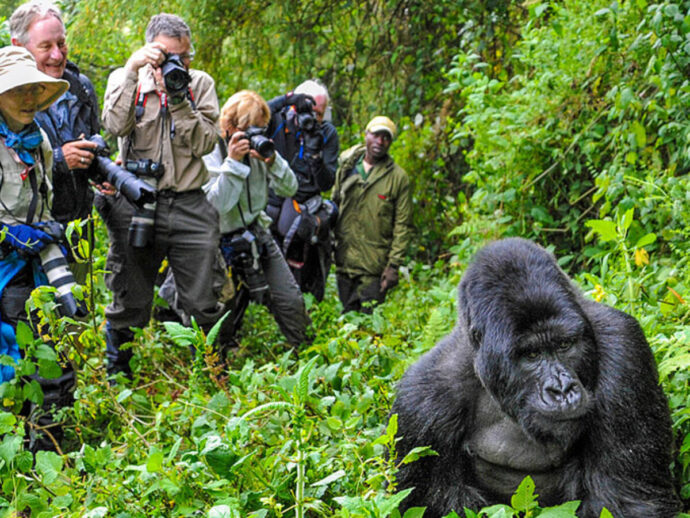 When going on a gorilla trek, it is recommended to wear comfortable, lightweight clothing that is suitable for hiking. Long-sleeved shirts and pants are recommended to protect against scratches and insect bites. Hiking boots are also essential for a comfortable trek, as they provide ankle support and good traction.
What to pack
When packing for your expedition, it is essential to bring a backpack with essentials such as water, snacks, sunscreen, insect repellent, and a rain jacket. You may also want to bring a camera to capture the experience. It is recommended to pack light, as you will be carrying your backpack during the trek.
Trekking guidelines
To ensure the safety of both the gorillas and visitors, specific guidelines must be followed when trekking with the gorillas in Volcanoes national park. These guidelines include maintaining a distance of 7 meters from the gorillas, not making loud noises, and not feeding or touching the gorillas. Visitors who are sick or have been in contact with contagious diseases are not allowed to visit the gorillas to protect them from infections.
Cultural experiences
Rwanda is also known for its cultural experiences, and it is worth exploring the local communities and traditions. You can visit the Genocide Memorial in Kigali, learn about traditional weaving techniques, or enjoy a traditional dance performance. These experiences provide an opportunity to learn about Rwanda's rich history and culture.
Accommodation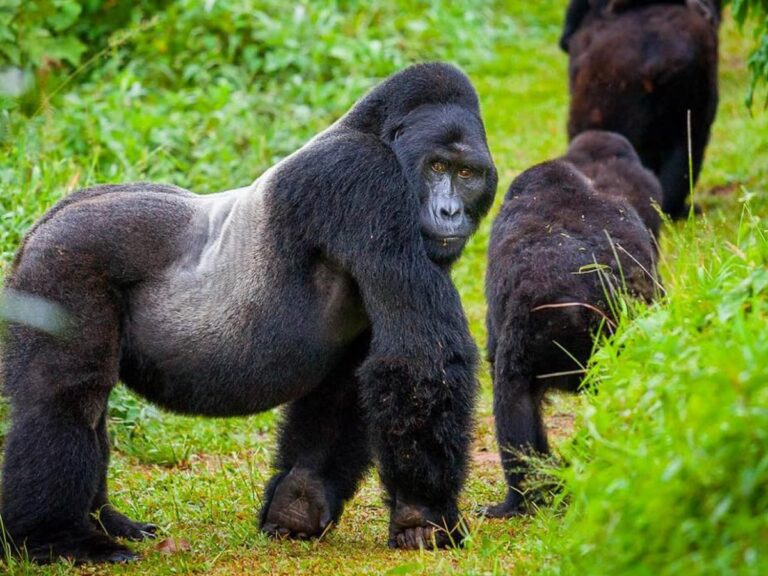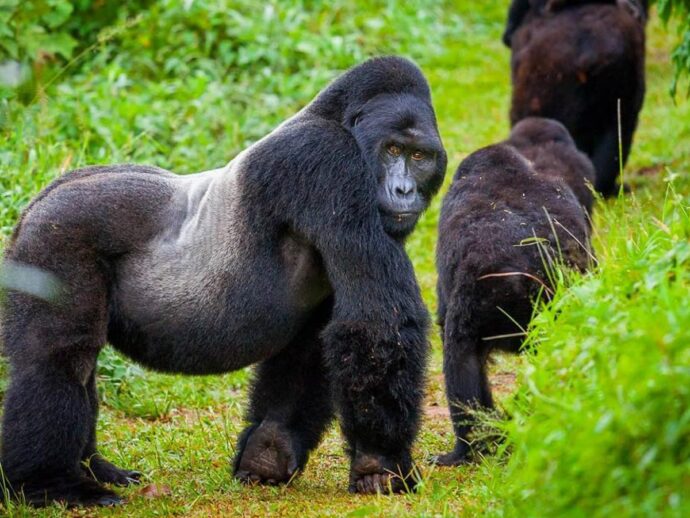 There are several accommodation options for visitors, ranging from luxury lodges to budget-friendly guesthouses. It is recommended to book accommodation in advance, especially during peak season, to ensure availability. Staying in a lodge near the gorilla trekking site can provide an early start to the trek and a chance to relax after the trek.
Conservation efforts
Gorilla trekking in Rwanda supports conservation efforts to protect these endangered species. When booking your tour, choose a company that supports sustainable tourism and conservation efforts. By supporting responsible tourism practices, you contribute to the conservation of these magnificent creatures and their habitat.
In brief, gorilla trekking in Rwanda is a unique and unforgettable experience that requires careful planning and preparation. By following our travel expert guide, you can make the most out of your gorilla trek in the Volcanoes National Park.
For further information, it is important to consult a local travel agent not only for formalities but also for up-to-date information on safety issues, security concerns, visas, inoculations, and vaccinations among others.