When we find ourselves stranded in a particularly difficult situation we reach out to a friend. When we wish to share something good, we again call our friends. When we need a shoulder to cry, we fall back upon a friend. A good friend is always there to hold your hand, and offer you the comfort you need on a rainy day. He is also there to tease you, and join you in your many escapades. So, why not wish a friend a goodnight with a special goodnight message to let them know how much they mean to you, and how much you care. After all, you do not need to wait for a day or time to tell your friend you care.
Good Night Message For Friends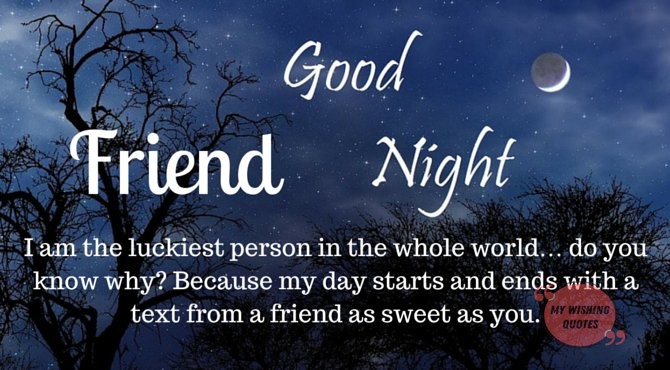 May an amazing day be followed by a really good night. May all the troubles and concerns just go away for a while and don't disturb you in your sleep. May this night bring you rest and tranquillity. Good night!
Goodnight my friend, pleasant dreams, sleep tight my friend, may tomorrow be sunny & bright and bring you full of happiness& success. Good night & Sweet dreams my friend.
Between a million yesterdays and a million tomorrows, there's only one today. And I would never let it pass without telling you – I'm thinking of you. Have a good night.
May your good night prayers
Good night. These two simple words really make difference, because they mean that you're not alone and there's always someone who guards your sleep. Sleep tight and don't worry about a thing.
Do not count what you have lost. Just see what u have now, because past never comes back but sometimes future can give u back ur lost things! 'Good night'.
I wish moon always be full & bright and you always be cool & right. Whenever you go to switch off the light, remember that I'm wishing you …Good Night!
reach the Angels who will immediately come down to watch you sleep. Good night dear friend.
We are so exhausted at day's end that the only thing we really want is to get into the bed and hear somebody wishing us good night. Well, good night!
This night is so bright and full of stars. May you have a dream as beautiful as this night. Kisses!
Stuff your worries in your pillow, wrap your troubles in your blanket and spread your anxieties on your bed sheet. When you wake up tomorrow, you will have dirty linen but a fresh mind and a happy heart. Good night.
The biggest gift that a night can give you is not good sleep, but the promise that your tomorrow holds millions of possibilities. Good night friends.
Saying "good night" is such a great bedtime ritual. I think people should say it more often, because these words are able to dismiss all the nightmares and give calm and peaceful sleep.
You will only be able to enjoy your night if you stop thinking about yesterday and stop worrying about tomorrow. So sleep tight and immerse yourself into your favorite dream. Good night.
Use every second of the night to dream about all that you want to achieve in life and use every second of the following day to achieve every dream you saw the last night. Good night my friend.
Good Night Wishes For Friends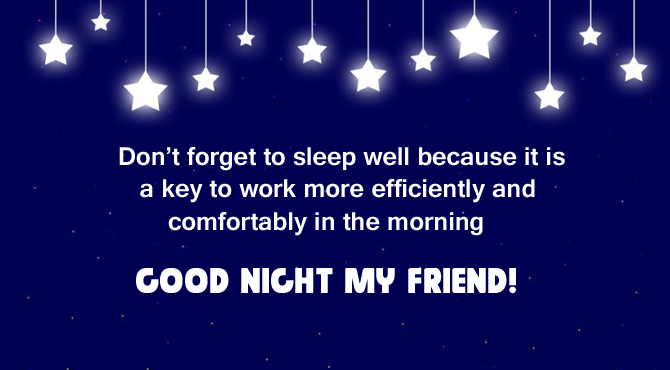 Night, night, to a dear friend! May you sleep well!
May the night fill with stars for you. May counting every one, give you contentment!
Friend, you make me smile! I hope you are smiling, while you sleep!
Dear friend, in this silent night when you are alone, remember that I will always hold your hand. Good night my friend. Have a nice sleep.
Our friendship is brighter than the moonlight. Because the moon only appears in the night. But our friendship remains 24 hours. Good night buddy.
The night is dark and long. I wish you a peaceful sleep which will take away all the tiredness. Good night dear. Have a sweet dream.
I am very much thankful to my God. Because He gave me the most amazing person as a friend. It's you, dear. Good night my friend.
The cool breeze, the stars and the shining moon all are reminding me of you. Good night my friend. Have a nice sleep.
I pray to god that your life be as sweet as honey, as fresh as rain drops, as colourful as a rainbow and as wonderful as your friendship. Have a good night and sweet dreams.
The clock has already struck 9. The whole world is sleeping and preparing to welcome a bright new sun. You too sleep tight with a heart open for the new sun and all the happiness that it will accompany. Good Night and sweet dreams. Sleep tight.
Good night to a lovely person on a lovely moment, to make the life lovelier all through the way. Good night!
No chocolate will be sweeter than your smile that will appear when you read this message – GOOD NIGHT!!!!!!!
This message sends my best greetings and prayers for you, to give you a blissful night ahead…. So Good night from this warm heart.
Good Night, my precious friend! May you feel safe and loved!
Good Night, to my adorable friend! You hold a special place in my heart!
Good Night Message To My Sweetheart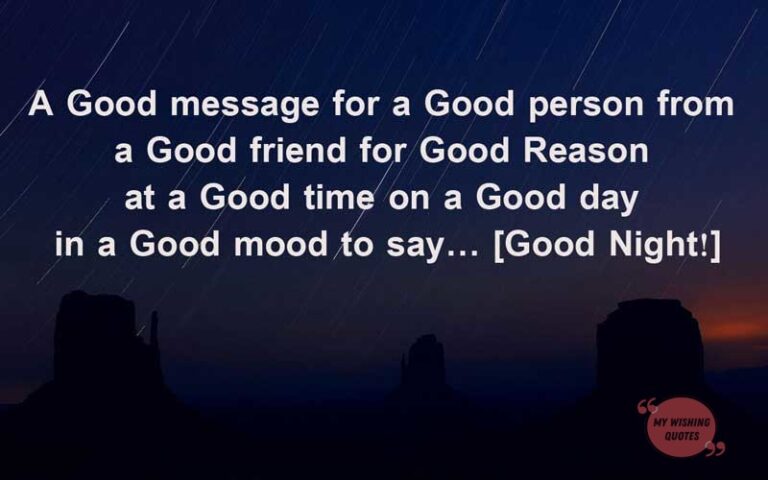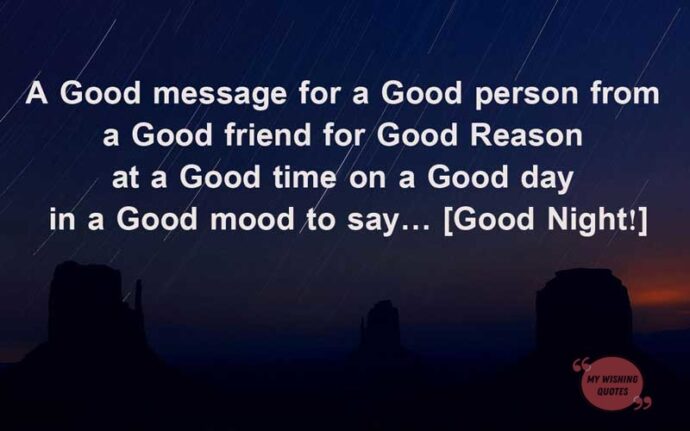 I hold your friendship close! I hope you have a Good Night!
You are such a good friend! May the night you have contain only good things!
Good night to a friend who is nice and makes everything swell!
Friendship is Smoother than silk & whiter than milk Sweeter than honey and greater than Money Higher than any tower & stronger than any power..!Good Night my Friend!
My heart is asking me to wish you a good night filled with fun and spirit!!! Have a good night dear. You are so important to me.
As moon shines brightest among the stars of the sky, my friend you shine brightest in the sky of my life; very Good night to you to acknowledge and tighten our bond of friendship.
Hope my message make you smile brightly like this full moon, so wish my dear friend Good Night!!!!!
Let us leave all our fights behind and promise ourselves that we will make tomorrow beautiful and cherishing. Have a good night.
Your pretty eyes are sleepy and your body needs rest so give yourself the reward of a sound and peaceful sleep. Have a good night and sweet dreams.
The sleepy moon and the might starts are telling you that it is time to give peace to your mind and rest to your eyes. So sleep tight, good night and sweet dreams.
As the light goes dim and the world goes silent let your eyes and body take some rest. Make sure to make it sweet and sound. Good Night.
The entire world has taken a break from work so you too switch off the lights and prepare yourself for a journey to the world of dreams. Good night my dear friend. Sleep tight.
The most beautiful and real relation in this world is friendship. Because friends never cheat us. Good Night Friends.
Dear friend, don't worry about tomorrow because I will always be there to make things easier for you. I am always with you no matter what the situation is…good night friends sleep tight.
In this silent night as i wish my friends I close my eyes and put my hand on my heart and remember good moment which i have spent with them. Good night my all sweet friends. Sweet dreams sleep tight.